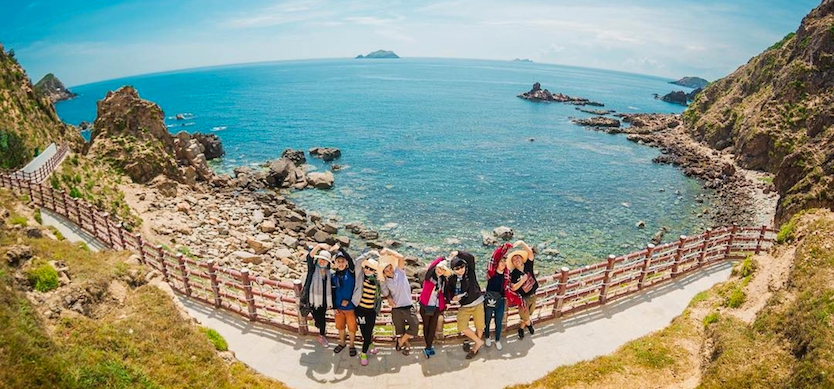 Near Saigon, there are lots of places to hang out with your friends on the weekends with lots of interesting things and delicious food.
However, when it comes to green beaches and diverse cuisine, nowhere can be as ideal as Quy Nhon city. Moreover, your trip will be extremely cheap when the cost here is much lower compared to other cheap group tours Asia.
So, our group had decided to go to Quy Nhon to explore the attractions here. Let's see the experiences you will also enjoy when you come to visit Quy Nhon.
Travel time and costs
How to get to Quy Nhon from Saigon
To save costs and time, from Ho Chi Minh city, you can choose the Phuong Trang bus line, which costs only VND 250,000/soft bed ticket, not including meals. There are three routes for you to choose from, which are 6:00 pm, 7:00 pm, and 8:00 pm. Travel time is only about 12 hours, so that you will reach the place in the morning.
Also, you can choose other bus lines or travel by train.
Means to move in Quy Nhon
Coastal roads in Quy Nhon
Right near the bus station, there will be addresses for travelers to rent motorbikes. There are Bike Grabs in Quy Nhon now. However, renting a motorcycle will be more convenient for your travel.
You can refer to the Cuong Thinh motorbike rental service that we used at 103 Chuong Duong (0978665826). Here, the fee will be calculated by the hour, not by the day.
Where to stay
You can rent Thang Huynh motel at 54 Nguyen Tat Thanh (0905351012). The quality and service are quite good. Notably, it is near the city center. The price was VND 200,000 for two of us.
Costs
The total cost of our entire trip is about VND 3,300,000 for 2 people, including meals, transfer, and accommodation. If you want to be free to enjoy, VND 4,000,000 will be enough for you.
Our 2-day itineraries in Quy Nhon
Ky Co beach
Enjoy the Ky Co beach
The way to Ky Co beach is effortless to go. You just need to go along Vo Nguyen Giap street to come to Nhon Ly commune, only 20 km away from Quy Nhon city center. Traveling by motorbike will take you about 20-30 minutes.
Ky Co is far from the mainland, so if you want to come here, you need to go on a canoe or follow the tour of the people in the Nhon Ly commune area.
Almost tours cost VND 210,000, including tickets to the island and swimming. If you want to enjoy seafood, the combo will cost VND 360,000. You can choose to tour of Bien Nho (0941337933). Usually, one tour will include 12-15 people.
With soft white sand embracing the sea, Ky Co is indeed a heaven in the earth. If you go on a tour, you'll have about 2 hours to swim and take photos, and the sea here is fresh and clear enough to see little creatures under the sea.
Hon Seo island
After the end of the tour to Ky Co, you will be guided up to the island of Hon Seo. It is a small island, 5 minutes to go by a canoe from Ky Co beach. Tourists will be equipped with life jackets and goggles to see the colorful corals here.
Eo Gio
The famous steps in Eo Gio, Quy Nhon
Eo Gio is located right in Nhon Ly commune. You go there to buy tickets at the price of VND 25,000/guest.
The Eo Gio is highlighted by the cliffs and the winding fences along the beach. Sometimes, you can see the mountain goats wandering on the cliffs.
What to eat
The most famous food for tourists to Quy Nhon
Sticky rice

Rice pancake folded in half

Cake soup with stewed pigskin

Water fern cake

Fish noodles

Jellyfish noodles

Vietnamese grilled sausage

Glutinous rice cake

"Lagu" bread

Seafood
Taste the delicious "Lagu" bread in Quy Nhon
In the afternoon, you can wander along Quy Nhon beach, enjoy drinks and the sunset at Surf Bar. Drinks here are not too expensive, ranging from VND 20,000 to VND 60,000.
Some notes when traveling to Quy Nhon
When you go to Ky Co, you should not take freshwater baths immediately, because the tours will often include coral watching packages in Hon Seo island. So, bathing when you come back from Hon Seo will be more convenient.

In order not to affect the schedule, you should go to Ky Co before going to Eo Gio because the time to visit by Ky Co is not fixed but based on the number of travelers and depends on each trip.

Remember to wear sunglasses and apply sunscreen before swimming to protect your eyes and skin.
The 2-day Quy Nhon break from Saigon will be an interesting and memorable beach trip. If you want to enjoy more beautiful scenes of the Vietnam tour on weekends, feel free to contact us or visit our website. Don't forget to like and share the review with others if you find it interesting. Thank you.