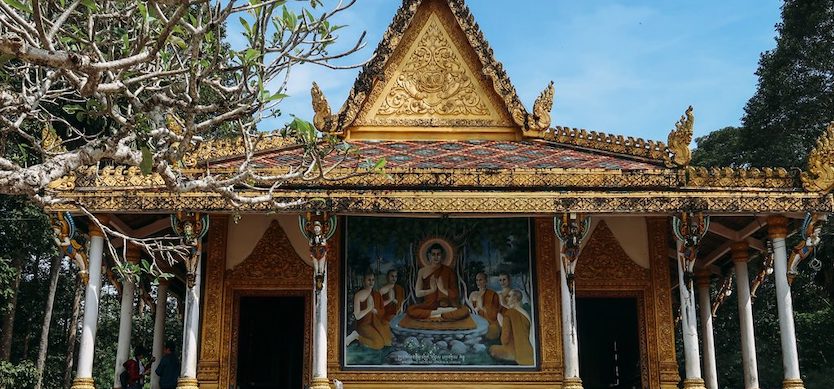 5 beautiful Southwest pagodas like a palace for travelers to visit (Editor's choice)
Tour Mekong Delta is famous for its vibrant, lush natural beauty, joyful life, and colorful culture embodied in daily activities, cuisine, etc., and especially in beliefs, religion.
Buddhism in the Southwest is very developed, so a Southern Vietnam pilgrimage tour 6 days cannot lack the experiences in large and famous pagodas.
You may be overwhelmed that do not know which religious place to visit or which pagoda has the most impressive appearance.
Therefore, we will lead you to 5 famous pagodas that bring the beauty of the magnificent palaces with many typical architectural styles from Chinese to Khmer. Surely, your trip will be extremely interesting and colorful.
Top 5 pagodas with attractive architecture in Mekong Delta
Som Rong pagoda (Soc Trang)

Bat pagoda (Soc Trang)

La Han pagoda (Soc Trang)

Ghositaram pagoda (Bac Lieu)

Kh'Leang pagoda (Soc Trang)
Som Rong pagoda
Som Rong pagoda
This pagoda with the Khmer architectural mark has the full name of Wat Patum Wongsa Som Rong. It was officially completed in 2017 and quickly became one of the most famous attractions of Soc Trang Province.
The first thing that impresses visitors when they set foot in the gate area is the 5 splendid towers placed right on the temple roofs. Colorful tones and meticulously sculpted, gilded motifs of the inner space will surprise you, creating the magnificence for this place.
Just wearing the outstanding costumes and make the right pose, you'll have a set of Asian-style photos which are exactly like those taken in ancient temples in Indonesia or Thailand.
Bat pagoda
It was originally named Mahatup, or Ma Toc pagoda, meaning "created by virtue." The architecture of the pagoda is harmoniously combined between Vietnamese and Cambodian cultures.
Because it was built in a forest with tens of thousands of bats living inside, the pagoda is also called Bat pagoda. However, due to the increasing number of tourists traveling here, bats are no longer flying to the pagoda as much as before.
La Han pagoda
La Han pagoda
The grandeur and splendor of this temple will make you think you just get lost in the palace of an ancient Chinese movie. From the walls, roofs, gates, windows, and decorative motifs, you will quickly realize the typical architectural style of the Chinese people. La Han pagoda has a beautiful big flower garden with lotus ponds, lakes, and dreamlike landscapes for you to freely photograph.
To reach the pagoda, you have to go into a small alley across Cau Den village. You should research the route on the map before going here or thoroughly ask the locals to avoid getting lost because the pagoda is quite difficult to find.
It is very crowded with visitors on major holidays and weekends. Therefore, you should also choose the right time for sightseeing, taking photos to avoid being swept into the crowd.
Ghositaram pagoda
If you admire the beauty of ancient pagodas and temples, you should not ignore Ghositaram pagoda. It is described as a Khmer pagoda with the most unique architecture in the Mekong Delta.
This work took 10 years to complete. In particular, artisans dedicated 4 years to perfect decorative patterns. Two bright colors of red and gold, meticulously sculpted mascots, column systems, and multi-storey roofs will make you admire the splendor of this place.
Kh'Leang pagoda
Kh'Leang pagoda
It is located in a wide campus on the banks of the dreaming Nhu Nguyet river, surrounded by rows of green trees. The buildings from the gate to the interior of the pagoda are decorated with elaborately carved patterns but are still very harmonious and delicate.
In more than 20 pagodas in Soc Trang city, Kh'Leang pagoda is in the top oldest monuments. In 1990, the Ministry of Culture and Information placed this ancient pagoda in the National Art Architecture section.
Each pagoda in the Mekong Delta has a different beauty, but if you want to explore the characteristics of the Southwest, you cannot ignore the 5 pagodas above. For further information about when is the best time to visit Vietnam, feel free to contact us or visit our website. Please like and share the article with others if you find it useful for you. Thank you.