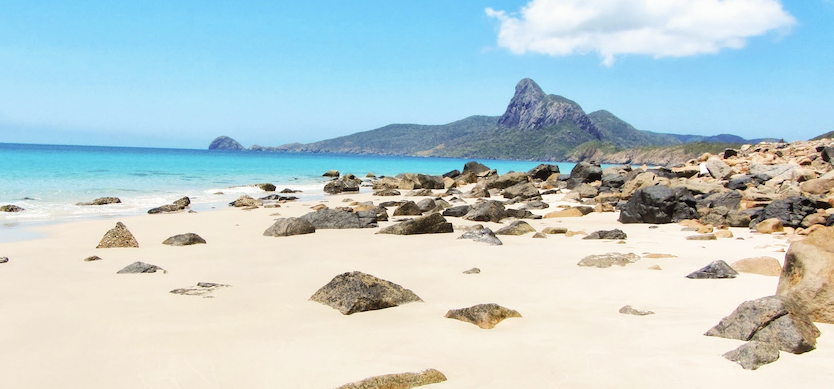 Con Dao island emerged when the country was attacked and invaded by French colonists and American imperialists, but not because it was a point for them to exploit. In fact, Con Dao had been likened to "hell on earth" when it became one of the most feared prisons for revolutionary soldiers.
So, what does the Con Dao 4-day tour offer apart from those spiritual relics?
If you come here, you will be extremely amazed by behind that famously fearsome name, the natural scenery here is unbelievably breathtaking and unspoiled.
Let's dive into the..
Top 6 must-visit places in Con Dao island
Dam Trau beach

Bai Nhat beach

Con Dao prison

Bay Canh island

Nui Mot pagoda

Con Dao National Park
Dam Trau beach
Dam Trau beach
Dam Trau beach is the most beautiful on the Con Dao archipelago. The beach is located near Co Ong airport, on the outer edge of Con Dao National Park and about 14 km from Con Dao town.
With smooth white sand, green primeval forest, and steep cliffs with unique shapes, Dam Trau beach is an ideal place to visit in Con Dao. In here, you will be immersed in the clear water, enjoy the mild weather, and snorkel to see the coral. Do not forget to prepare colorful swimsuits to take impressive photos when visiting here.
Bai Nhat beach
Located in the southeast of Con Dao town, Bai Nhat brings an idyllic and unspoiled beauty. The sea here is clear, hidden under the tide. Around the beach, there are many beautiful and luxurious accommodation for tourists to enjoy their holiday.
The road to Bai Nhat beach is also a favorite check-in point for young people. No matter what angle you stand, you will capture all the beauty of the mountains and the sea.
Con Dao prison
Con Dao prison
Considered "hell on earth" in wartime, Con Dao prison is a sightseeing spot that any traveler wants to visit. The prison has many detention areas, in which the Tiger Cage is the most famous with barbarous punishments such as sun-drying prisoners or leaving them starving dead. Space here will help you get unforgettable experiences.
Bay Canh island
As the second-largest island in Con Dao, Bay Canh island is covered by primeval forest and mangrove forest, with 882 plant species and nearly 150 animal species. In here, you will have the opportunity to snorkel and watch many rare, precious coral species.
More specifically, Bay Canh island is a place with the largest number of turtles laying eggs out of 14 spawning grounds of Con Dao. It is also one of the interesting points to attract tourists, especially those who want to learn about the breeding process of this animal.
Moreover, you can visit the mangrove forest when the tide recedes and learn about the strange "tank crab" at night.
Nui Mot pagoda
Nui Mot pagoda
Dubbed the most beautiful feng shui temple in Vietnam, Nui Mot pagoda is a scenic spot that you cannot ignore when coming to Con Dao.
From here, you can admire the panoramic view of Con Dao town, Con Son bay, and An Hai lake. The main pagoda was built in the shape of a Chinese character meaning "Three," including the main shrine, the hallway, and the post-shrine with a solemn, quiet appearance.
Con Dao National Park
Con Dao National Park has an area of ​​6,000 hectares of land and 14,000 hectares of water area, covering 14 islands. It is home to many natural resources, owns high levels of biodiversity, many beautiful beaches, and important historical sites.
Visiting Con Dao National Park, you will experience many interesting activities such as fishing, diving, biking, hiking, or nature sightseeing on yachts.
Besides Con Dao beaches, you can also explore Phu Quoc island - the ideal spot for your upcoming trip.
As an archipelago off the coast of Ba Ria - Vung Tau province, South Vietnam, Con Dao attracts tourists by many famous and beautiful check-in points. If you want to know more about other beach Asia tours, don't hesitate to contact us or visit our website. Like and share the article if it's useful for you. Thank you and have a wonderful time here.