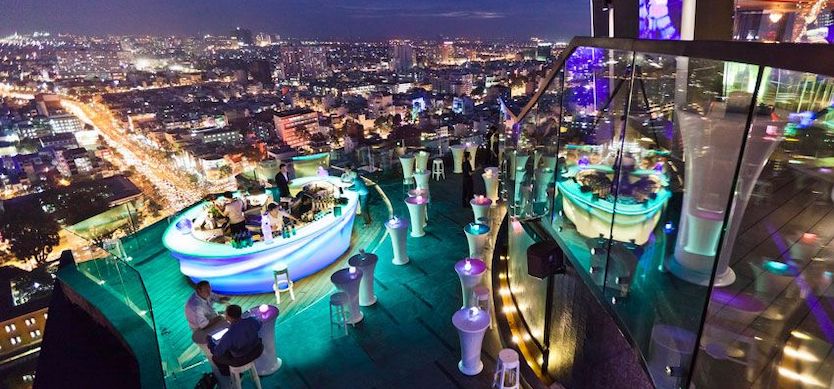 Chill Sky Bar is one of the favorite destinations for Saigon excursion at night. It creates a dynamic, bustling nightlife so it attracts a lot of people to come here, especially foreign tourists.
You can choose to come here during the day to enjoy the cool breeze while the city is working or come from 8 am to see the sparkling streets below. No matter which way you choose, you will need guides from a Saigon-er so you don't feel confused when you come here.
Therefore, we will provide you with the necessary information about Chill Sky Bar. From there, hope you will have a good time on your Saigon sunset tour by speedboat.
Where is Chill Sky Bar?
Address: 76A Lê Lai, District 1 | Rooftop AB Tower, Saigon

Opening hours: 5:30 pm - 2:30 am

Contact: http://chillsaigon.com

Price: From 150k/cocktail
The view of Chill Sky Bar
Chill Sky Bar is located on the highest peak of AB building, in the heart of District 1 with sweeping views of the bustling Saigon.
Chill Sky Bar impresses with a 3,000 m2 space located on the 26th, 27th and 28th floors of AB Tower, address 76A Le Lai, District 1, including an outdoor entertainment area, an extremely exciting Lounge area, and the premium Fine Dining Saigon restaurant.
This is a convergence of style, aesthetics, fashion and trendy cuisine of the upper Saigon elite. It is a meeting place for partners, international friends and an ideal destination for those who want to experience endless banquet nights, culminating culinary moments.
Here, you will enjoy the cool atmosphere and the shimmering architectural beauty of Saigon at night.
Pros
The majority of guests here are foreigners living in Saigon or tourists. Therefore, it is not as crowded and chaotic as other underground bars.

Delicious drink

Friendly and professional staff

Good music

Nice view to watch the sunset
Cons
You can come here to enjoy music and drinks
Note: The bar has a formal and elegant dress code. So, do not wear athletic clothes, tank tops or slippers. Men should wear jeans, shirts, and shoes. Women should not wear shorts.
You can park in the basement of AB Tower if you plan to arrive later than 11:00 pm.
The space inside Chill Sky Bar
Chill Sky Bar also affirms the culinary class and customer service when it comes to providing the customers with fashionable dishes and international-class cocktails. They are all made by a 5-star foreign chef from Dubai and prepared by world-class bartenders, etc.
Besides, there are diverse music styles, from Chill-out, sophisticated and attractive R&B to Sexy house, charming and passionate hip-hop. As a pioneer of the rooftop entertainment model in Vietnam since 2011, Chill Sky Bar has left a strong impression, attracting young Saigon people and domestic and international tourists.
Happy Hours of Chill Sky Bar
Set City View - Happy Hour
If you are looking for a place to enjoy cocktails and snacks, chat with friends after a stressful working day, Chill Sky Bar is the perfect suggestion.
From 5:30 pm to 9:00 pm every day, with only VND 88,000 (including cocktails and bar snacks), you will have the opportunity to experience the City View - Happy Hour menu. It includes a glass of "Last Time" or "Saigon Punch" cocktails, along with delicious snacks that cannot be denied such as "Grilled Black Seabass Satay", "Grilled Pork Skewers", and "Nha Trang Grilled Prawns."
The dining space of Chill Sky Bar
In the space covering Saigon from above, Chill Sky Bar will surely bring you unforgettable and relaxing moments.
Set Canapé - Happy Hour
During the Happy Hour every day from 5:30 pm to 9:00 pm, Chill Sky Bar offers a richer choice for diners with a more luxurious range of drinks and snacks. For only VND 150,000, you will enjoy a new cocktail with the unique name of "13th Street Daiquiri" or the charming Asian Temptation.
With a diverse, delicious menu and a luxurious city sightseeing experience, Chill Sky Bar is definitely a destination you should not miss on the Dragon Eyes cruise 2 days Saigon Phu Quoc. If you need further information, don't hesitate to contact us or visit our website. Please like and share the article with others if you find it useful. Thank you.