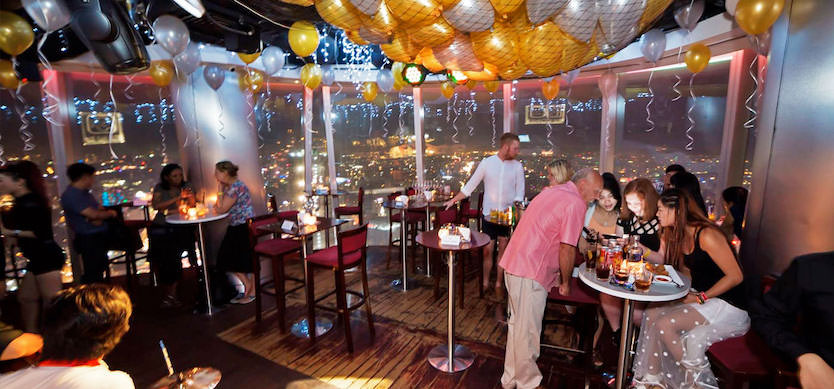 Sky-high bars are the favorite place for many people looking for a luxurious and different experience in Saigon. Visiting night bars is also one of the top 7 crazy things to do in HCMC at night. Eon Heli Bar is one of the most prominent names here.
How is the drink at Eon Bar? Is the city view beautiful? What dishes does Eon have?
All of these questions will be answered by us in this article. So don't miss out!
Where is Eon Heli Bar?
From almost anywhere in the center of Saigon, you can also see EON Heli Bar - a bar with a unique name attached to the helipad of Bitexco Financial Tower Saigon.
Located at an altitude of more than 200m above the ground, EON Heli Bar is not merely a perfect place to watch the sunset over the lovely cocktails; It is also the ideal destination for a vibrant night with music performance, creative drinks, and a stirring DJ every night.
EON Heli Bar
Address: 52 Floor Bitexco Financial Tower, No. 2 Hai Trieu, Ben Nghe Ward, District 1

Opening hours: 1:00 pm - 4:00 pm on weekdays

Happy hour: 5:00 pm to 8:30 pm daily (20% off on some types of water)

Price: VND 200,000 - 550,000
Pros:
Wonderful view overlooking the city from the 52nd floor of Bitexco

Premium-class service style

Professional staff

VIP guests will experience the service to the bar by helicopter
Cons:
EXTREMELY high prices (Thus, it is also called "Pay for sightseeing")

Drinks are not so attractive
Eon Bar
Café EON and EON Heli Bar are located on the 50th and 52nd floors of Bitexco Financial Tower, a beautiful location for you to see Saigon and enjoy high-quality cuisine.
Enjoy a beer bottle at Eon Heli Bar
Eon is not a rooftop bar but in return, EON Heli Bar possesses a unique vision. When sunset gives way to the night, the entire space of the bar is filled with soft lights that allow guests to watch the splendid city below their feet.
Space here has a European style with luxurious furniture and extremely modern design. Guests will have a variety of seating options with separate designated areas including smoking and non-smoking areas.
Eon Cafe
Besides an ideal space, the high-class cuisine of Café EON and EON Heli Bar is also a special highlight praised by many diners.
Located higher than all the other cafes in Saigon, Café EON is the ideal place to enjoy food and panoramic views of the city from above. Especially, when the night falls, the streets of Saigon are decorated with sparkling lights. Sitting at Café EON, diners will feel the difference.
Diners will have the opportunity to enjoy a variety of attractive drinks prepared by a professional and skilled bartender team.
Pineapple, passion fruit, orange, lemon, watermelon, apple, mango smoothie, etc., or hot coffee, traditional Vietnamese iced coffee, draft beer, etc. are very familiar but at EON, you will have the opportunity to experience them with a very different flavor. They all meet the highest standards in the culinary industry.
Eon Dining
The dining area at Eon
A Saigon Riding & Dining tour cannot lack a visit to the Eon Dining. Located on the 51st floor of Bitexco Financial Tower, EON51 Restaurant & Lounge is currently the tallest restaurant in Saigon with overwhelming mineral views.
The restaurant is divided into two separate dining spaces. It's the VIP and Open Kitchen areas. There is also a high table area that is known as the Couple Café for couples who want to enjoy drinks and admire the panoramic view of the city.
Café EON and EON Heli Bar serve European - Asian and Vietnamese dishes with a wide variety of cuisines that give diners many choices to experience. Whichever they choose, EON can satisfy all their culinary passion.
Happy Hours
Currently, EON Heli Bar is having a "Happy Hour" promotion from 1:00 pm to 4:00 pm every day (not applicable to holidays and weekends). The promotion is as follows:
1 glass of Draft Beer + snack: VND 79,000

1 liter Draft Beer + snack: VND 215,000

1 big Heineken beer bottle for 2 people + snack: VND 450,000
Eon Heli Bar will make you extremely satisfied with the fascinating food and stunning panoramic city views. For further information about Saigon excursions, don't hesitate to contact us or visit our website. Please like and share the article with others if you find it useful. Thank you.