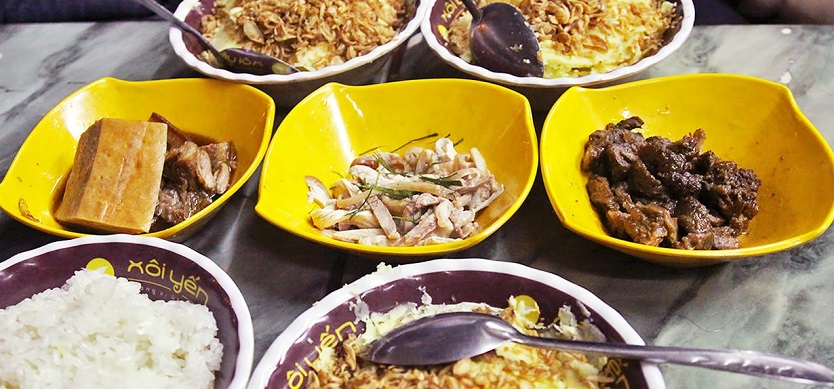 Hanoi has been known for a thousand years of civilized capital with a long history. Besides, Hanoi also makes a deep impression on visitors by many delicious and unique dishes.
Enjoying Hanoi cuisine is one of the best ways to explore Vietnamese culture. So, which dishes make your culinary experience unforgettable? Let's see in this post.
Pho
Pho has been a culinary symbol not only in Hanoi, but also as one of the national ones. As a delicate traditional Vietnamese dish, it has been associated with Vietnamese people for generations.
With the main ingredients including white, big noodle cake and the broth from the cow bone, a hot bowl of Pho in the morning will give visitors a wonderful feeling.
A delicious Pho must be made from beef, clear and sweet broth, soft noodles and eaten with lemon, onions and little fresh herbs. Pho is an extremely popular dish, like a all-day gift of all Hanoi people.
Where to eat Pho in Hanoi?
Bat Dan Noodles - 48 Bat Dan
Thin Noodles - 13 Lo Duc
Ly Quoc Su Noodles - 10 Ly Quoc Su
Beef noodle soup
Bun Dau - Noodles with fried tofu and sauce of macerated shrimp
Traveling to Hanoi, you must try the most mentioned street food - noodles with fried tofu and sauce of macerated shrimp. The dish merely includes wishful fatty, fried tofu with white noodle disk and a few vegetables but it conquered the most discerning diners.
If you are worried about food safety in the sidewalk cafes, you should choose restaurants. Price for a tofu noodle dish is from VND15.000-25.000. Besides fried tofu, this dish can be eaten with fried nuggets, boiled meat, boiled pig tongue, etc.
Where to eat in Hanoi?
31 Alley, Hang Khay

8 Ma May, Hoan Kiem

B1 Ngo Tram, Hoan Kiem
Rolled Pho
Steamed "Pho" paper rolls is a unique dish of Hanoian. Although it is not born simultaneously with soup noodles, the noodle roll quickly becomes a favorite dish of many.
Hanoi noodle roll attracts customers by the chewy softness of noodles, taste of sliced medium-rare beef, fresh salads, and sauce, which creates a delicious dish of Vietnam, satisfying both even the most fastidious. Let's take a Hanoi private food tour and try this dish.
Where to eat in Hanoi?
Rolled pho
25 Ngu Xa, Ba Dinh, Hanoi

33 Ngu Xa, Ba Dinh, Hanoi
Snail vermicelli noodles
Besides noodles, Vermicelli noodles are also one of the most popular dishes in Hanoi, especially Snail Vermicelli noodles. On the sunny morning of summer or cold day of winter, a hot bowl of snail vermicelli noodles will satisfy all diners.
Taste of chili sauce, fat snails, sliced banana flower, and sweet soup will make you unforgettable. To enjoy this dish, you can come to Tay Ho street, Dong Xuan Market, Hoe Nhai Street.
Com - Young green rice
Young green rice is a specialty of Hanoi in autumn. To get the delicious green nuggets, the nugget makers have to make through many elaborate stages. Although it is a rustic gift, enjoying nuggets in the right way requires the sophistication of the person to enjoy them. When eating nuggets, use your two fingers to pinch a few grains of nuggets into the tip of the tongue, chew slowly to feel the smooth taste of the nuggets mingled with the fragrance of lotus leaves.
Where to buy young green rice?
Vong Village, Dich Vong Hau, Cau Giay
65A Hang Than, Ba Dinh
1A Dinh Liet, Hoan Kiem
Young green rice
Kebab rice noodles - Bun Cha
Hanoi's kebab rice noodles have previously been grilled with bamboo sticks, but very few shops sell this. Today, kebab rice noodles grilled by charcoal is more popular. You can choose to eat dumplings or fried pieces. Hot sauce is put in a big bowl, has a seductive fragrance. This sauce is considered the soul of the dish.
Where to eat in Hanoi?
34 Hang Than, Ba Dinh
1 Hang Manh, Hoan Kiem
74 Hang Quat, Hoan Kiem
24 Le Van Huu, Hoan Kiem
Steamed sticky rice
In Hanoi, there are many steamed sticky rice dishes like as: black beans, peanuts, corn, fried crab, chicken, meat steamed glutinous rice, khuc cake. Both the early morning and the late night, winter or summer day, whenever you can enjoy this delicious dish on any streets in Hanoi.
La Vong Grilled Fish
La Vong Grilled Fish
Grilled fish has long been a specialty of Hanoi. Names like La Vong grilled fish, Anh Vu grilled fish or Lao Ngu grilled fish are considered super delicious grilled fish brands here.
Grilled fish is a sophisticated dish right from the stage of selecting raw materials, made from lentils and fruit, so the meat is firm and chewy.
Where to eat grilled fish in Hanoi?
107 Nguyen Truong To
120 K1 Giang Vo, Ba Dinh
21 Duong Thanh, Hoan Kiem
Let's visit Hanoi and try these delicious dishes. Surely you will have an unforgettable culinary experience. Visit our website to get more information about things to do in Hanoi. If you have any questions, feel free to contact us. Share this article with others if you find it helpful. Thank you!