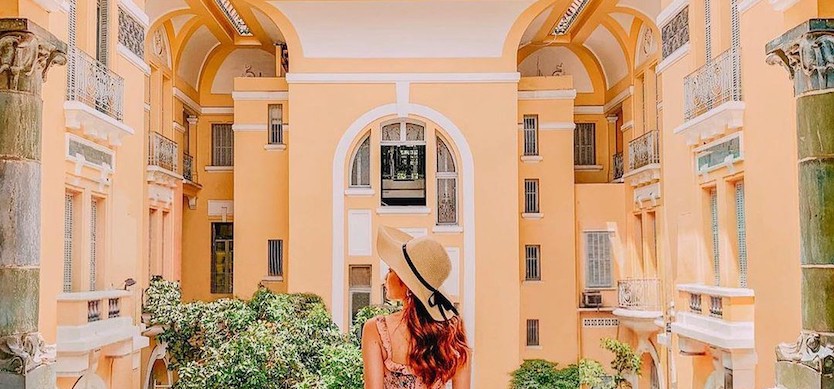 The bustling Saigon sometimes makes people look for the peace of the historical flow, of the old colors.
If you are a traveler to Saigon who loves beauty and peace, then you should not miss a visit to the Ho Chi Minh Fine Arts Museum.
So, what does this museum have?
Find out the answer in this article.
Address of Ho Chi Minh City Fine Arts Museum
Located at 97 Pho Duc Chinh, District 1, Ho Chi Minh City, the museum was established in 1987 but it was not operational until 1991.
From 10.2 km to the southeast of the city center, you follow Truong Chinh, Cong Hoa, and Nguyen Van Troi to Nam Ky Khoi Nghia streets in Ward 7. From Nam Ky Khoi Nghia, you drive to Ly Tu Trong and turn left 58 meters to the museum.
Ho Chi Minh Fine Arts Museum
The colors coming from the past
Not only is it an ideal destination for those who love culture and passion for art but the Ho Chi Minh Fine Arts Museum is also one of the favorite check-in places for young Saigonese.
If you are a fan of the vintage style and images, you must definitely visit this place in the Saigon - Mekong Delta 5-day packages. We can compare the Ho Chi Minh Fine Arts Museum as an old dimension where time stops with yellow as the main color.
From the main entrance, you will easily see that the whole building is a huge yellow structure in the middle of a large green natural space.
When we walk along the corridors, the yellow color disappears and is replaced by the grey color of the walls and the windows of the two sides. You would argue that grey is a modern tone. But no, in the space of the museum, this color seems to lose its inherent coldness but is filled with the faint nuance of the past.
Another color that appears quite a lot in this space is red. It is a vibrant color, the color of the fire. Red intense and frantic like that yet doesn't confront or overwhelm the yellow and grey. At times, the red is just like silk gently squeezing across space, making this past footage a bit more fresh.
The ancient color at the museum
History of Ho Chi Minh City Fine Arts Museum
According to information, in the past, Ho Chi Minh Fine Arts Museum was the residence of a Chinese businessman named Hua Bon Hoa. This was one of the richest and most famous people of Saigon at that time as he owned many other important works such as Hotel Majestic, Tu Du Hospital, Saigon Emergency Center, etc.
The building is a harmonious combination between Asian architecture (China) and European architecture (France), designed by Mr. Rivera - a French architect in 1929 and completed in 1934.
In 1987, the building was established as Ho Chi Minh Fine Arts Museum. However, due to the lack of many objects, it was not until 1992 that it was put into operation.
So far, the museum has become one of Vietnam's major art centers, hosting many sculptures, paintings, and antiques of the country and humanity. They also include works of high artistic value such as lacquer painting of "Spring Garden North, Central, and South" by artist Nguyen Gia Tri.
The architecture of Ho Chi Minh City Fine Arts Museum
In 1987, this building became the City People's Committee. Ho Chi Minh City renovated to become the Fine Arts Museum of Ho Chi Minh City and it is operating so far.
Travel to Ho Chi Minh Fine Arts Museum
Ho Chi Minh Fine Arts Museum currently consists of 1 basement and 3 floors with 2 vertical rows and 2 horizontal rows of houses lying opposite to create a skylight in the middle of the building. In it, the basement is used as the workplace of the office block and paintings display.
The first floor is dedicated to the exhibition, display, painting business, and art organization. Also on the second floor, it is for the display of contemporary sculptures and fine arts. And the top floor is to display collections of ancient art, modern art, and traditional Vietnamese fine arts and crafts.
Ticket price
Children: VND 3,000/person.

Adults: VND 10,000/person.

Students, military personnel, policy beneficiaries are exempt or discount tickets depending on each specific case.
Most visitors come here on weekends and holidays. Not only Vietnamese people but also lots of tourists from abroad usually come here. Many student groups also choose this place as an extracurricular activity or refer to an art class.
Ho Chi Minh Fine Arts Museum is not only a place to store artifacts of history but also an ideal place for those who love culture and art. Surely, your trip to Saigon will be extremely interesting and meaningful in this museum. If you love to explore outstanding works, don't miss a memorable trip to Cao Dai Great Temple. Don't forget to like and share the article with others if you find it useful. Thank you.