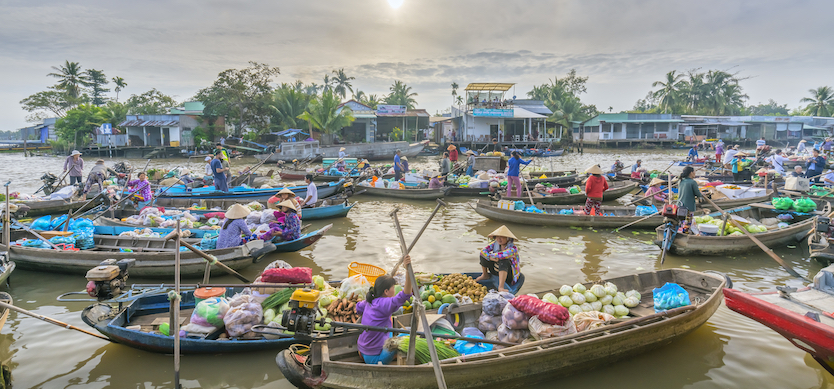 Have you ever heard of floating markets in Thailand? While they are attractive, these markets have been partially commercialized. That is the reason why today, many tourists are looking to other floating markets in the Mekong Delta of Vietnam, especially in the city of Can Tho.
So, why are Can Tho floating markets so engaging?
If you have no idea about these interesting places, you should not ignore our article. It will give you many things to know about Can Tho floating markets - the best place for traveling in Can Tho.
How many floating markets does Can Tho have?
The Southwest has no less than 10 floating markets. In particular, Can Tho accounts for 2 floating markets and one of them is Cai Rang floating market - the largest market in the region. The remaining market is the Phong Dien market. Although this floating market is not as famous as Cai Rang market, the goods here are much richer than Cai Rang.
Cai Rang floating market
Cai Rang floating market
Cai Rang floating market is located in An Binh Ward, Cai Rang District, about 6 km from the center of Can Tho city. On the Cai Be - Can Tho 2 days tour, you can get here by boat from Ninh Kieu wharf. It takes only 30 minutes to participate in the largest floating market in the Southwest that specializes in agricultural products. It is also a tourist destination you should not miss in Can Tho.
Phong Dien floating market
If you want to learn about the cultural life of the Southwest people, no place can be more ideal than the visit to Phong Dien floating market. It belongs to Can Tho - a place preserving the special culture in the Mekong Delta region.
It is a true general market like those that we often see on the shore. The only difference is that it is happening on the river. That uniqueness has made Phong Dien floating market a leading destination attracting tourists and people to buy and sell goods. It is even more famous to the locals than the Cai Rang market.
Phong Dien floating market
Beautiful sceneries of Can Tho floating markets
Cai Rang Can Tho floating market is bustling with buyers and boats from early morning. Here, visitors are not only satisfied with boats filled with fruits and agricultural products but also enjoy the cultural features of the Southwest capital such as floating pubs, noodles, etc.
Phong Dien floating market sells everything to meet the needs of the people, from groceries, agricultural products, meat, fish, eateries, to boats repairing machinery and utensils. Evenly, this place also sells boats, mechanical manufacturing machinery, etc.
Local life of people on Can Tho floating markets
There is nowhere better than the Phong Dien and Cai Rang floating markets at highlighting the culture of the Southwest river culture. Southwest people are honest, reliable, and are trade people in the rive. Hence, they become more honest and respectable. Even though their whole life is associated with rivers, boats, and trees, people here still live together in a generous, comfortable but deep Southwest love.
The simple fact that the passenger boats are ready to let the people of the boat meet the tourists to see how they yield, share and help each other.
The life of local people at Can Tho floating markets
It can be said that the Phong Dien floating market rarely has any boat collision or noisy controversy. People here are still idyllic, quiet, sticking together in big rivers.
Today, road traffic has grown to every corner and floating markets have been increasingly invested, Phong Dien and Cai Rang floating markets still exist in the life of people in the river. They are still there as a symbolic image of Can Tho land. Phong Dien and Can Tho floating markets have a lot of interesting things waiting for visitors to explore.
Whether you are a nature lover or a fan of the unique cultures on the river, Can Tho floating markets will satisfy you. If you need further information, don't hesitate to contact us or visit our website. Please like and share the article with others if you find it useful. Thank you.