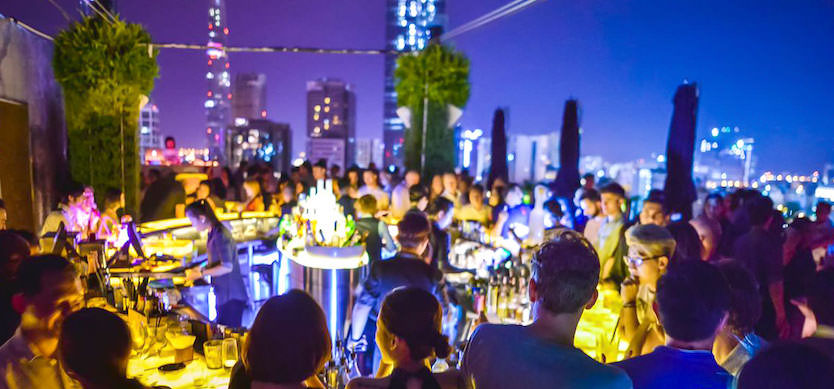 You're impressed with modern life and the glamor of Saigon? You're wondering if there is a more interesting place than that?
So, you do not know the nightlife in Saigon already. Spending the night here, you will be even more surprised.
But...
Just going everywhere is not enough. You will need to go to the locations of rooftop bars to enjoy the modern view of Saigon at night.
In this article, we will take you to the Glow Bar, which offers a luxurious atmosphere but is still more peaceful than some other noisy bars.
Let's dive in!
Where is Glow Skybar?
Glow Sky Bar is one of the popular rooftop bars in Saigon today. Decorated with tropical trees, with the main colors of white and black, the bar has an airy atmosphere. Thus, space here is quite similar to a beach. Glow brings to tourists a relaxing and comfortable feeling.
The view at Glow Sky Bar
With the location on the rooftop of President Place in the city center, it is not difficult for guests to immerse themselves in the shimmering beauty of the stars or the Saigon lights at night. Glow Sky Bar is also one of the most popular check-in locations among young people.
Especially, the music often played at Glow is the deep house and tropical house that gives listeners a peaceful, fresh feeling. Here, you will come across mostly tourists and foreigners. Being the right place to communicate and chat, the music in this bar is not too loud. Hence, people can interact without fear of being overwhelmed by the sound.
Glow Sky Bar promises not to disappoint you. Immersing yourself in premium drinks, vibrant atmosphere, swaying to the catchy tunes from famous artists such as DJ Jack Arifeen, DJ Lymchi, DJ Dan kings, Saxophone Hoang Thi, etc. are great experiences for a chilling night in Saigon.
Address: 93 Nguyen Du, Ben Nghe Ward, District 1

Opening hours: 05:30 pm - 01:30 am

Dress code: Luxurious/Elegant

Happy Hours: Wednesday

Drinks: Alcohol, Cocktails, Long Drinks
What you will enjoy at Glow Skybar
Drinks at the bar
Glow Sky Bar has outdoor space on the airy rooftop of the President Place building. Coming to Glow Sky Bar, you will admire Saigon at night at an ideal height. This is a place for those who love the relaxing, mysterious environment.
The classy atmosphere of Glow Sky Bar shows right from the first steps into the bar. The lights are arranged harmoniously, rationally, spreading along the stairs to give a luxurious feeling to those who come to play. Every location, area or even the symbol of the restaurant is invested, decorated with sparkling lights, full of attractiveness.
In addition to the quiet music that opens early, late at night, Glow Sky Bar brings to guests exciting music from both famous domestic and international DJs, singers. Glow Sky Bar also scores strongly in service, friendliness, and enthusiasm from the staff, making the quality of the bar increase somewhat.
Glow Skybar is famous as one of the extremely quiet outdoor bars with impressive decoration, both modern and sophisticated, in an open space of the sky in Saigon. It is always windy and the view is extremely ideal in the center of the city.
If you travel alone or with a friend, you can sit right in the bar area. This area is less noisy and you can make a conversation. Unlike some complex discos, Glow is similar to Chill Sky Bar that is a place of civilization without any hustle.
There are several events taken place at Glow Sky Bar
If you go here in a group, you can sit at a large table area with a beautiful city view. Or, you can come to the standing table area to dance. This space is for those who like the noise and bustle.
The bar also has an extensive menu of drinks and snacks.
As a luxurious and civilized rooftop bar, Glow Skybar is a very suitable place for you to meet friends. If you do not drink alcohol, the drink here is not too high compared to the space and quality of service you experience. For further information about intimate day tours Saigon, don't hesitate to contact us or visit our website. Please like and share the article with others if you find it useful. Thank you.