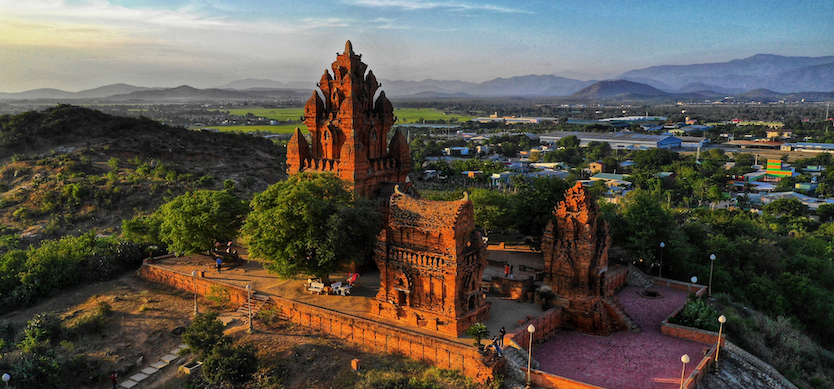 Asian tourism is no longer bored when this place has been increasingly invested with the most luxurious resorts in the world and is interesting with spectacular and pristine spots, etc.
If you have ever planned an Asia tour Vietnam, you probably are no stranger to the magnificent tour Halong Bay or the airy and friendly Da Nang city. Not only that but Vietnam also has a place that gradually makes worldwide visitors surprised - Ninh Thuan.
You might be wondering:
"What makes Ninh Thuan stand out?"
With favorable natural conditions, in the near future, Ninh Thuan promises to be a popular Asian destination which is comparable to Da Nang or Quang Ninh.
More specifically, read the following information. Surely, you will find interesting and want to come here immediately.
Where is Ninh Thuan located?
Ninh Thuan is situated in a popular tourist triangle, including Da Lat (Lam Dong), Nha Trang (Khanh Hoa), and Mui Ne (Binh Thuan). Therefore, this place possesses a favorable geographical position on the tourist map, easily attracting many domestic and foreign tourists.
The beauty of Ninh Thuan province
Unique and beautiful beaches
Immerse yourself in the beautiful beaches
This pristine, sunny, and windy land is favored by nature for the dreamlike sea paradise. With over 100km of coastline, Ninh Thuan owns white sand beaches, clear blue water, creating the charm and freshness for the land associated with sand and wind.
The heaven-like fanciful Rai cave, the peaceful Binh Son beach, or the pristine Mui Dinh, Ninh Chu beaches, etc. are the names mentioned when it comes to Ninh Thuan tourism. With abundant marine resources, Ninh Thuan has the potential to develop marine tourism which is comparable to other places in Asia.
Charming sand dunes
Tourists often refer to Ninh Thuan as a crystal on the sand because it owns an enchanting "miniature desert." The white sand dunes resembling deserts become a special highlight of Ninh Thuan. Travelers coming here can visit Nam Cuong, Son Hai, or Mui Dinh sandhills.
Fascinating activities
Sheep farms in Ninh Thuan
Apart from swimming, tourists can enjoy many unique activities on the sandhills like admiring the scenery on a "beetle" car or cultivator which are thriving in Ninh Thuan, leaving domestic and foreign tourists impression.
World-class tourism services
In addition to the natural conditions, Ninh Thuan also focuses on developing services to promote tourism development, attracting tourists.
According to Ninh Thuan tourism promotion information, this province is identified as one of the key points in the national tourism development strategy until 2020. Accordingly, Ninh Thuan has policies to attract investment for tourism development in the province.
In Ninh Thuan, there are many high-class resorts and tourism projects invested. In which, Crystal Bay Group and their partners have launched the Sunbay Park Hotel & Resort Phan Rang complex project, promising to bring tourists 101 utilities with 5-star standard services such as 9 infinity pools, water park, and coastal shopping areas, etc.
Unique culture
In addition to promoting the development of high-class tourism services, Ninh Thuan still retains its long-standing cultural identities.
Explore the unique culture of Ninh Thuan
This land is associated with the culture of the ancient Champa people. Visitors here can learn this attraction through 3 clusters of Hoa Lai, Po Klong Garai, and Po Rome towers, imprinted with a long history.
Harmonizing with the life of people of the sunny and windy area is also a meaningful experience in Ninh Thuan. If you don't want to visit the blue beaches or sandhills, you can relax wander in the vineyard, play with the sheeps grazing, or watch people harvesting salt, etc. These local cultural features are such highlights of this new paradise.
Besides familiar names on the Asian tourist map like Da Nang or Halong, Ninh Thuan is gradually asserting its position as a paradise on the continent. If you love this site, don't hesitate to like and share the article with others. For further information, feel free to contact us or visit our website. Thank you and have a wonderful time here.