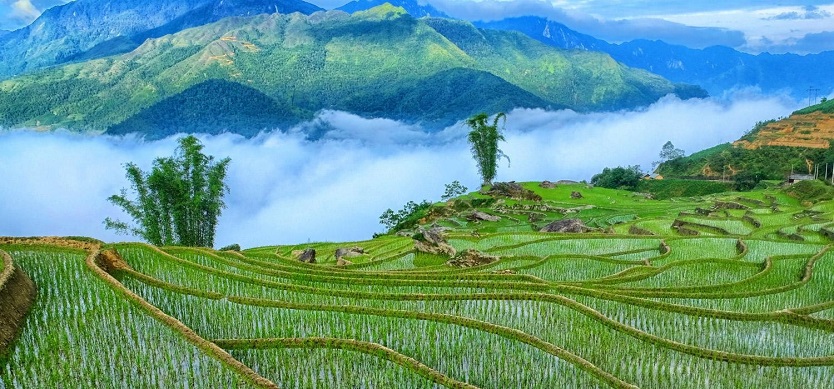 Despite many changes taking place over the past few years, Sapa, Vietnam is still one of the best places to visit in Asia. This mountainous town is beautifully adorned with terraced rice paddies and striking landscapes that are a must see for every visitor travelling to Vietnam. In addition to its superb attractions, Sapa and its surrounding areas provide some of the best trekking experiences in the country. The weather starts to gradually improve in April with temperatures settling between 13°C and 21 °C and 6 hours of sunshine per day.
What's the weather like in Sapa in April?
Temperature/Rain
The daily average temperature for Sapa in April is approximately 17 °C. Tourists to the area can expect rainfall with an average of 140mm precipitation during the course of 11 days of the month.
Humidity
Humidity for the town can reach 80% but due to the slightly warmer temperatures at this time of year, visitors may feel fatigued. It's best to avoid spending too much time outdoors as you may feel discomfort. However, rain and drizzle is likely to occur during April.
Where to stay in Sapa in April?
Bamboo Sapa Hotel
If you are searching for budget accommodation then finding a suitable place to stay is highly important. The Bamboo Sapa Hotel is a great place to reside in during your stay in Sapa. This hotel offers a number of important facilities while allowing guests to have a stunning view of the Fasipan Mountain. With a range of packages, it's ideal for both individual and group visitors. Housing 65 rooms, this three star accommodation boasts rooms with air conditioning, minibar, television, balcony and private bathroom.
You can take advantage of the free Wi-Fi to keep in touch with friends and family back home and free 24 hour room service is provided to equip your every need. If you need refreshments then head to the hotel bar, the largest in Sapa. You can relax with a beverage on the terrace and recharge ready for the day or evening ahead. The hotel restaurant offers a range of dishes, including special diet dishes on request. There are also a number of activities you can do, including cycling, hiking and karaoke.
Sapa Elite Hotel
If you want to book a room elsewhere then try the Sapa Elite Hotel. Located just 100 miles from Sapa church, the hotel has seventeen rooms complete with balcony, parquet flooring, minibar, television, private bathroom and free toiletries. This elegant hotel is surrounded by beautiful gardens and guests can look forward to both Vietnamese and Western dishes in the onsite restaurant. If you are looking for activities to do in Sapa then the tour desk can help. Here, you can make a sightseeing booking or tour arrangements and even arrange transport to other areas. Free Wi-Fi and parking is also provided to accommodate your needs.
Where to eat in April?
The Hill Station
Sapa isn't known for its nightlife but there are many friendly food and drink establishments for tourists to visit while in town. Whether you are looking for local cuisine or a taste of what you are used to, there's something for everyone to enjoy. One place to visit is The Hill Station. Located at 7 Muong Hoa Street, here you can enjoy a cosy atmosphere and friendly service. Taking over two floors, The Hill Station serves a range of deli food and wines. You can try a platter of meat or cheese, a tasty sandwich or even a salad. Alternatively, why not try a hearty soup or pasta dish. If you are visiting during the morning or afternoon, you can enjoy a cake and coffee or even a cold beer. This eatery has a relaxing atmosphere and you can chill out on the couch while watching people go about their day.
Hmong Sister Bar
Alternatively, you might prefer to head to the Hmong Sister Bar. Situated at 31 Muong Hoa Street, you can enjoy a few beers, a game of pool or local music. Open until midnight, you can enjoy an evening of fun and entertainment. If the weather is pleasant then take your drinks outside on the terrace