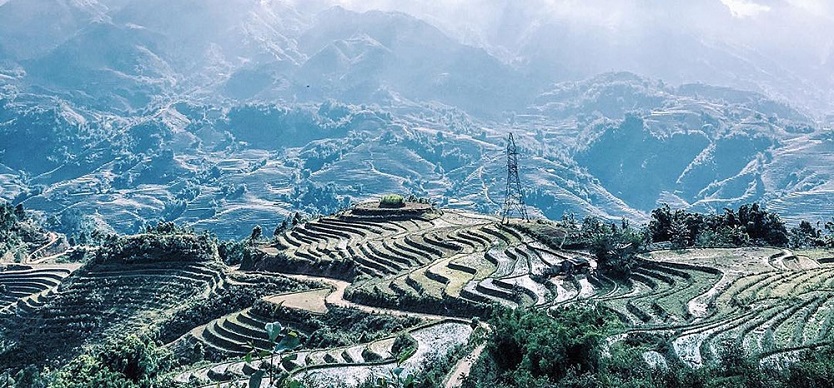 Located in the Lao Cai province of Vietnam, Sapa is a good choice for tourists when spending their holiday in Vietnam. This is largely due to its cool, pleasant climate and picturesque scenery which is unique to this part of the world. December brings cooler weather as winter arrives with temperatures settling between 8°C and 15 °C and only 4 hours of sunshine per day.
What's the weather like in Sapa in December?
Temperature/Rain
The daily average temperature for Sapa in December is approximately 12 °C. Tourists to the area can expect rainfall with an average of 26mm precipitation during the month. During winter months, the weather is much milder than the rest of the year but it's the perfect time of year to try activities on super cold days.
Humidity
Humidity for the town can reach 81% but due to the cooler temperatures, visitors shouldn't expect any discomfort.
The beauty of Sapa
Where to stay in December?
Pinocchio Sapa Hotel
There are several hotels in Sapa which offer a range of accommodation for families, individuals, and groups. Whether you're on a budget or looking for something more luxurious, there is something for everyone. If you are on a budget then take a look at Pinocchio Sapa Hotel.
Situated on Muong Hoa Street, this accommodation is popular with both tourists and business travelers. Guests can access free Wi-Fi, mini bar, bathroom, and desk. The hotel has a range of facilities, including restaurant, family room, bar, 24-hour desk, tour service and bicycle rental to keep guests entertained. The convenient location is handy if you're planning a visit to Mau Temple or Lao Chai Village.
Sapa Sky Hotel
Alternatively, take a look at Sapa Sky Hotel. This affordable accommodation only has eight rooms but it offers guests free Wi-Fi, a coffee shop, restaurant, 24-hour reception desk and even childminding service. Located in Cat Cat Village, it's just 2km from Sapa center and in close proximity to many of the region's attractions.
Sunny Mountain Hotel
Another good hotel you might want to explore is the Sunny Mountain Hotel. Situated in the heart of Sapa, this accommodation has the perfect location for anyone wanting to see all of the town's attractions.
Sunny Mountain Hotel
The hotel has some fantastic services, including free Wi-Fi, an indoor pool, children's swimming pool, shops, coffee shop, restaurant, beauty salon, bar and 24-hour room service. This hotel caters for everyone with disabled access, a babysitting service and pets allowed. The 75 rooms have comfortable furnishings with bright and clean décor.
If you're fairly active then use the hotel fitness center and then relax in the sauna or spa. This accommodation is more expensive than other hotels in the area but the Sunny Mountain Hotel is a superior choice that will allow you to have an enjoyable stay in Sapa.
Where to eat in December?
Romano's Pizza Restaurant
Though Sapa doesn't have a lively nightlife, there are several restaurants that provide good food and drink to tourists. If you want to stick to cuisine that you are used to then head to Romano's Pizza Restaurant. Located on Cau May Street, here you can enjoy a pizza, pasta dish or a Vietnamese dish.
Silk Lantern Restaurant
Another restaurant to try is the Silk Lantern Restaurant. Serving Asian and Italian dishes, this eatery offers hearty food and friendly service. Situated on Pham Xuan Huan Street, this restaurant is the perfect place to enjoy a delicious meal.
Peters Coffee Corner
If you're just looking for a hot drink to warm you up then try Peters Coffee Corner. Situated in a quiet part of town, this is ideal for those who want to relax after a day of backpacking. Profits from the shop are donated to local children so it's also great if you want to support local projects.
Why don't you take Sapa tours and get memorable experiences? If you have any questions or need further information, do not hesitate to contact us.