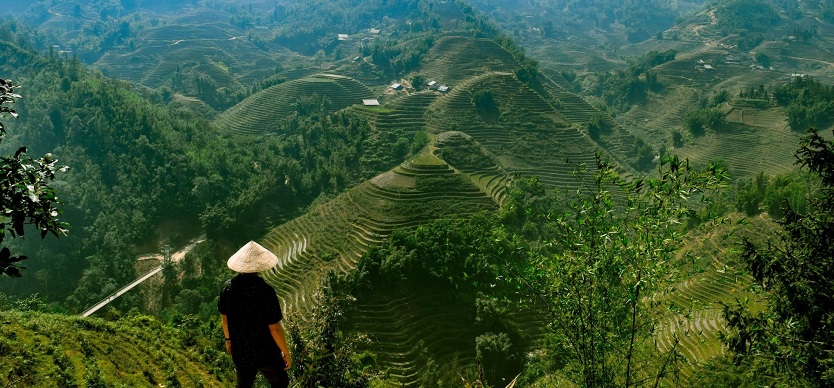 Situated in the province of Lao Cai, Sapa is one of the most beautiful places in Vietnam. The mountainous resort is one of Asia's fastest growing tourist hubs and an increasingly popular destination for visitors to the region. Surrounded by green forests, Sapa has a subtropical climate with mixed daily weather conditions due to its setting in a mountain area. January is the coldest month of the year with temperatures settling between 7°C and 13 °C and only 3 hours of sunshine per day.
The weather in Sapa in January
Temperature/Rain
The daily average temperature for Sapa in January is approximately 10 °C. Tourists to the area can expect rainfall with an average of 23mm precipitation during the month. During winter months, the weather is much milder than the rest of the year and it's not unheard of for temperatures to plummet to zero during the night.
Humidity
However, you can mainly expect Sapa to have a mixed climate throughout the day with sunshine in one part of the day and rain and frost the next. Humidity for the town can reach 82% but due to the cooler temperatures, visitors shouldn't expect any discomfort. The climate at this time of year makes it a good time to take part in outdoor activities, such as walking. However, there can be frost and fog at this time of year so check local weather forecasts before setting off on outdoor exploration.
Where to stay in January?
Sapa Luxury Hotel
For family accommodation and those seeking comfort and relaxation, enjoy a stay at the Sapa Luxury Hotel. Here, there are various packages to suit different budgets and tastes. Situated just minutes away from Sapa market and church, this hotel boasts 20 rooms complete with a private balcony, satellite TV, bathroom and air conditioning. You can enjoy a meal at the hotel restaurant or have a bite to eat at the snack bar. Free Wi-Fi is available throughout the hotel so you can keep in touch easily with friends and family. The hotel can also organise tours or car rental if you're unsure as to what to do with your time in Vietnam.
Where to eat in January?
Baguette And Chocolat
Though Sapa doesn't have a lively nightlife, there are a few establishments that serve alcohol and food. There are many tourist friendly places here regardless of whether you want cuisine that you're familiar with or want to try a taste of Vietnam. If you're heading out to explore the town and fancy stopping for a drink and snack then head to Baguette and Chocolat. Here, you'll find tea and cake, delicious pasties and desserts to satisfy a sweet tooth. Part of Hoa Sua training school, you'll find this eatery located on Thac Bac. Snuggle up to the large fireplace with a hot drink or grab a picnic basket if you plan on hiking around town.
The Vilage Noshery
Alternatively, you might want to head to The Village Noshery. This fairly new dining experience in Sapa boasts stylish and eclectic décor and is located on Cau May Street. As it opens at six thirty in the morning, it's the ideal place to grab breakfast before you start your day in town. Grab a coffee and French toast to fuel up for the long day ahead.
Things to do in Sapa in January
Cat Cat Village
There are many things for tourists to do in Sapa. Cat Cat Village is highly recommended due to its picturesque setting, unique traditions and practices. Situated just trekking distance away from Sapa town, Cat Cat Village allows you to explore the stunning scenery that Vietnam has to offer. You can hire a guide and go hiking on one of the many tours the village has to offer. The classic tour takes place over the course of a day and includes breakfast and lunch. You can stop by a local elementary school to visit the children, shop in the craft centre and view the waterfall at the old French electric station.
Hoang Yen Chao Castle
Another great way to spend time in Sapa is to visit the Hoang Yen Chao Castle. This magnificent architectural construction attracts thousands of visitors each year. Constructed in the 20th century, you can view the building in all its glory as well as going inside.
Dates to note
January is a colourful month in terms of things to with many festivals to enjoy in the area. The Red Dao Dance festival is held on the first and second day of the first lunar month while you'll also find a range of events in surrounding villages. The Gao Tao Hmong Festival, Tay Festival, Van Ban and the Ta Van Giay Dragon festival are all occurrences to look forward to.