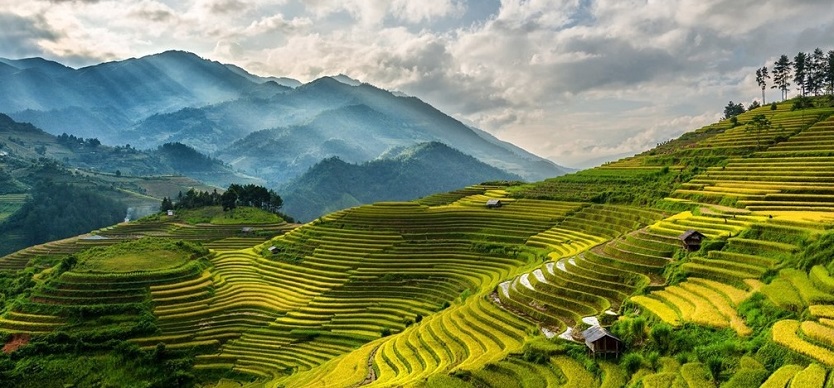 Situated in Vietnam, Sapa town and its nearby region is famous for the highest peak in the country, Fansipan which stands at 3142m above sea level. Sapa is often cool and foggy due to its altitude which is 1600mm above sea level. However, in summer expect a tropical climate. The town is perfect for welcoming visitors from all over the world and in July, you can enjoy temperatures ranging between 18°C and 24 °C with 5 hours of sunshine per day.
What's the weather like in Sapa in July?
Temperature/Rain
The daily average temperature for Sapa in July is approximately 21 °C. Tourists to the area can expect rainfall with an average of 461mm precipitation over the course of 22 days during the month. However, this may appear in cloud cover, rain and drizzle.
Humidity
Humidity for the town can reach 83% but due to the warm temperatures, tourists should be warned of sunstroke and heat exhaustion. If you're planning on exploring the outdoors then drink lots of water to keep hydrated and don't spend too much time in the direct sun. Try to take regular breaks from the heat to cool off too.
Where to stay in July?
Royal View Hotel
For accommodation, the Royal View Hotel is ideal for those looking for a comfortable and affordable place to stay. Offering varying packages, this hotel is perfect for anyone travelling alone, in a group or with family members.
Offering views of the Hoang Lien San mountain range, each room has a private bathroom, minibar and television. Guests can use the free Wi-Fi and parking provided, laundry service, restaurant and bar and 24 hour reception desk.
Sapa Panorama Hotel
Another great place to stay is the Sapa Panorama Hotel. Located just 150 yards from Sapa church, each room has air conditioning, television, minibar and private bathroom. Guests can take advantage of free Wi-Fi and parking, tour desk, business centre, restaurant and bar. If you're looking for things to do then book a local tour or rent a bike and go cycling. Each morning, you can have a buffet breakfast and grab a free map to explore the local delights.
Go Sapa Hotel
An alternative cheap accommodation suggestion is the Go Sapa Hostel. Costing from just £3 per night, this establishment is ideal for those who want to be in the centre of town. Located only 1000 yards from Sapa Lake, each room has either a private or shared bathroom, private balcony, desk and free Wi-Fi.
At this hostel, you can relax in the shared lounge or enjoy time in the games room, rent a bike or car to escape to the local surroundings or read a book from the onsite library. The restaurant serves many dishes to satisfy your appetite while the onsite shops provide various goods for your needs. Despite the low cost, the hostel is very comfortable, clean and friendly.
Where to eat in July?
Viet Emotion Restaurant
Though Sapa doesn't have a lively nightlife, there are several establishments that serve alcohol and food. One suitable place is Viet Emotion Restaurant. Located at 27 Cau May Street, this eatery only has eight tapas dishes on its menu, however, you can enjoy a delicious breakfast, sandwich or even burger. Furthermore, you can enjoy a selection of wines. If the weather is good, sit outside on the terrace and watch people go by.
Hotpot Stalls
For traditional Vietnamese cuisine, try the Hotpot Stalls. Located south of the local bus station, here is the best place to try a popular dish of meat stew and vegetables. Open until eleven in the evening, why not take your dish away to eat on the go.
The Bombay
If you enjoy Indian food then you must go to The Bombay. Serving your favourite curries, this eatery located at 36 Cau May Street is the perfect place to enjoy a tasty Indian dish.
What to do in Sapa in July
Ma Tra
There are many things for tourists to do in Sapa. Visiting Ma Tra is recommended for all visitors to the region. Situated just five km from Sapa and with only fifty homes, this beautiful part of Vietnam boasts stunning landscapes for everyone to view.
Alternatively, you might want to view the Sapa Rattan Bridge which crosses Muong Hoang River. You can watch the water running downstream and cross the bridge itself. Remember to take lots of photographs of this stunning scenery.
Dates to note
The month of July sees a rebirth of different festivals in the area. Popular with locals, these events include the Black Hani Gat Tu Tut in Y Ty which starts in July and continues until the beginning of August. Other festivities to look forward to including the Bat Xat Black Hani Festival and the Nung.