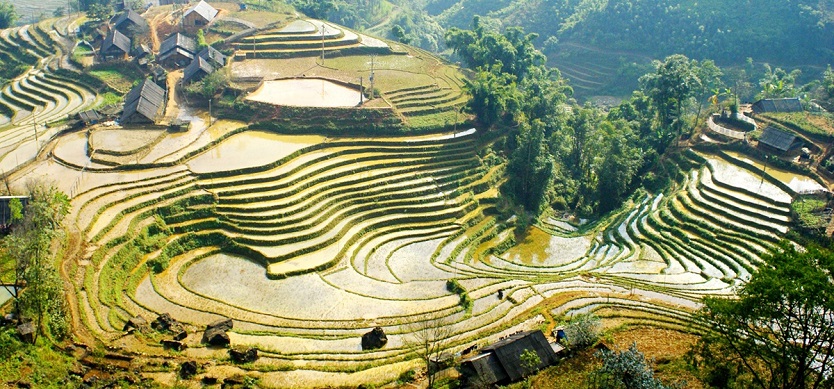 A naturally beautiful and charming town in North-West Vietnam, Sapa is a must-visit for anyone who appreciates nature and beauty. This village has been growing in popularity over the past few years with thousands of tourists arriving to enjoy the wonderful scenery that it has to offer. Sapa enjoys a tropical climate, however, it's one of the few towns where people experience the four seasons within the same day. June sees summer arriving with temperatures settling between 18°C and 24 °C and 5 hours of sunshine per day.
What's the weather like in Sapa in June?
Temperature/Rain
The daily average temperature for Sapa in June is approximately 21 °C. Tourists to the area can expect rainfall with an average of 307mm precipitation during the month. During summer months, visitors can expect hot weather with warm nights.
Humidity
Humidity for the town can reach 81% but due to the warmer temperatures, visitors can expect it to feel sticky and muggy. Caution is advised as you can suffer from heatstroke or exhaustion during this time of year. It's best to avoid spending too much time outdoors, drink lots of water to stay hydrated and take regular breaks in a cool area.
Where to stay in Sapa in June?
Chau Long Sapa 1 Hotel
Accommodation in Sapa is ideal with many hotels in the area. One will appreciate the budget friendly hotels that offer a range of packages for both individuals and families. Whether you're travelling for a holiday or honeymoon, there are hotels to suit every guest.
The Chau Long Sapa 1 Hotel is located just 550 yards from Ham Rong Mountain and has 22 rooms with each boasting a balcony, television, private bathroom, minibar, safe and toiletries. Each morning, a breakfast buffet is served with a range of dishes. Guests can look forward to free Wi-Fi, indoor pool, darts and billiards. Visitors can also take advantage of car hire, currency exchange, lounge area and tour desk with ticket service.
My Tra Homestay
Alternatively, you might like to take a look at My Tra Homestay. This cheap accommodation is just over 6 miles from Sapa Lake and offers both dorm rooms and other rooms. A shared bathroom and toilet is available for guests to use as well as free Wi-Fi and parking.
There's also a restaurant, snack bar and barbecue on site for guests to enjoy. There's plenty to do both at the hotel and nearby. Rent a bike, have fun on the karaoke machine or make arrangements at the tour desk.
Sunny Mountain Hotel
Visitors to Sapa may also enjoy a stay at the Sunny Mountain Hotel. This beautiful hotel is highly popular with tourists and is situated just half an hour away from Lao Cai City. Each air conditioned room has a minibar, safe, bathroom, television and free toiletries.
Guests can enjoy both Vietnamese and International dishes at the hotel restaurant as well as being entertained at the bar and nightclub. On site, you'll find a gift shop, beauty shop, business facilities, free Wi-Fi, dry cleaning and laundry service. Guests will never be bored here as you can book a trip somewhere local with the tour desk, enjoy karaoke, take an indoor swim in the pool or relax in the spa without having to even step outside the hotel.
Where to eat in June?
The Gerbera
Though Sapa doesn't have a lively nightlife, there are lots of friendly establishments for tourists to enjoy a bite to eat or a refreshing beverage. One place to try is The Gerbera. Located at 23 Cau May Street above a craft shop, this eatery offers both Vietnamese and Western food for guests to enjoy. You can also enjoy a cold drink on the covered terrace.
Gecko Restaurant
Alternatively, you might want to try The Gecko Restaurant. Situated at 4 Ham Rong Street, near the post office, this eatery is well known for its French cuisine. However, you can still grab a burger or pizza here if you prefer. If you're health-conscious, enjoy a smoothie or juice for breakfast as the restaurant opens at six-thirty in the morning.