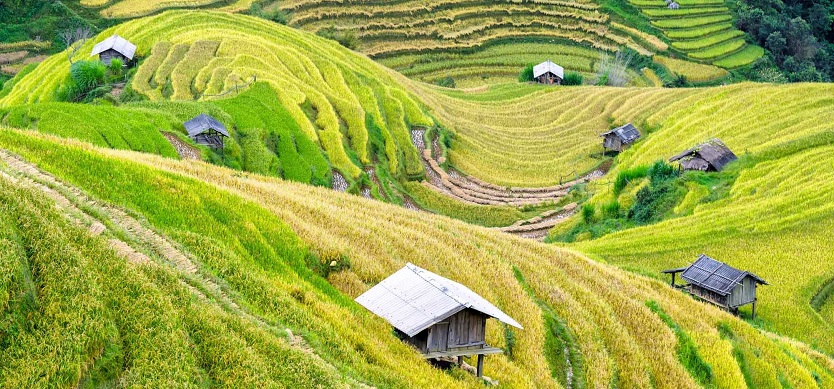 A capital and frontier town of Sapa district, Sapa has increased in popularity over the years. Thousands of visitors flock to the region to enjoy its beautiful scenery and fascinating local culture. Boasting some of world's best natural landscapes, its geographical location at 1650m above sea level happens to be one of the best in terms of climatic advantages. March sees temperatures settling between 11°C and 18 °C with around 5 hours of sunshine per day.
What's the weather like in Sapa in March?
Temperature/Rain
The daily average temperature for Sapa in March is approximately 15 °C. Tourists to the area can expect rainfall with an average of 100 mm precipitation during the month. The weather in the area is often erratic with tourists experiencing four different seasons in one day.
Humidity
Humidity for the town can reach 81% but due to the milder temperatures, visitors shouldn't experience any discomfort. The climate at this time of year makes it a great time to explore the outdoors. Walking, cycling and viewing the local scenery are all popular activities to do in Sapa.
Where to stay in Sapa in March?
Thai Binh Sapa Hotel
There is a wide range of accommodation in Sapa to suit all budgets. For families and couples seeking a quiet haven to relax and enjoy the local surroundings then book a room at the Thai Binh Sapa Hotel. Run by several teachers, this hotel has only eight rooms but it is a well-liked and friendly establishment. Located opposite Ham Rong ticketing booth, this no smoking hotel has rooms with a private bathroom, minibar, television and garden or mountain views.
The hotel offers free Wi-Fi access so you can access the internet whenever you need to. You can also use the computers in the lobby area to catch up with family or friends. Each morning, you have a choice of a continental or an American breakfast and you can purchase drinks from the hotel bar. If you're unsure as to what you'd like to do in Sapa then the hotel staff can help. The tour desk can help you book local trips and even assist with currency exchange. You can also be advised of the best places to visit in the area and recommended restaurants and bars.
Where to it in March?
Hill Station Signature Restaurant
Though Sapa doesn't have a lively nightlife, there are many places where you can enjoy a meal or a few drinks. Located at 37 Fansipan Street, you'll find the beautiful Hill Station Signature Restaurant. Here, you'll be able to enjoy a range of cuisine from tofu to smoked pork belly. The exquisite wine menu means you can relax with a large glass of red or white while taking in the stunning scenery. Interestingly, you can choose between sitting on one of the large cushions on the floor or taking a seat at a dining table. The choice is up to you
Nature View
Alternatively, you might want to head to Nature View. Situated at 51 Fansipan Street, here, you can enjoy a delicious evening meal or simply have a cold beer or coffee while you relax and watch the picturesque views. There's both Vietnamese and European food so there truly is something for everyone to enjoy as well as a friendly and comfortable atmosphere. .
Things to do in Sapa in March
Hoang Lien Mountains
There are various activities for tourists to do in Sapa. March is a great time to visit the Hoang Lien Mountains. Named the Tonkinese Alps by the French, here you can visit Vietnam's highest peak, Fansipan. Often obscured by clouds, this area can be cold and wet and is best tackled by experienced hikers. If the weather is particularly bad, its best avoided. However, on a clear and warm day, it's an incredible experience and a chance to view one of Vietnam's most scenic areas. The trip from Sapa to the peak can take two to three days and this rough terrain is best tackled on a group tour with an experienced guide. Once you pass through local villages, you'll enjoy local wildlife and terrain. Make sure you take a sleeping bag and camping equipment with you for the journey as there is little shelter once you start to climb to the peak.
Dates to note
There are a lot of festivities to enjoy during the month of March. Marking the end of a busy festival schedule, the perfume pagoda festival runs from the 6th day of the month in the lunar calendar and runs until the end of March. This is a major attraction and one tourists should definitely attend if possible. Another major event includes the sacrifice to the forest. Usually held in Muong Khuong Nung, this is a popular festival with locals.