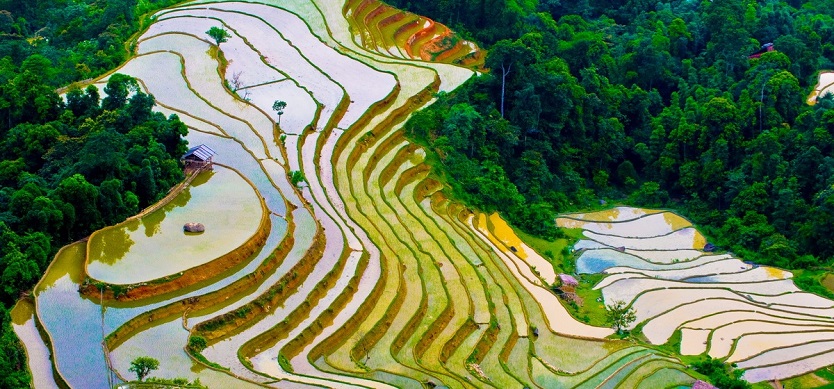 Over the past few years, Sapa in the north west of Vietnam has experienced a renaissance in tourism. With thousands of tourists finding their way to the mountainous town, there is a wide range of things to enjoy, especially as the locals have a deep culture that is yet to be adulterated by western ideologies. One of the main reasons to enjoy Sapa is the town's weather. In May temperatures settle between 16°C and 24 °C with 6 hours of sunshine per day.
What's the weather like in Sapa in May?
Temperature/Rain
The daily average temperature for Sapa in May is approximately 20 °C. However, tourists to the area can expect rainfall with an average of 265mm precipitation during the month. This higher amount of rainfall doesn't mean you need to pack heavy clothing as the temperatures are warm during this time of the year.
Humidity
Humidity for the town can reach 79% but due to the warmer temperatures, visitors should be cautioned. The humidity can cause fatigue and heat stroke so it's best not to spend too much time outdoors. If you're heading outside to explore then take regular breaks from the heat and drink lots of water to stay hydrated.
Where to stay in Sapa in May?
Green Valley Hotel
There are many places to stay in during a visit to Sapa. It's very possible to find suitable and inexpensive accommodation in a town like the Green Valley Hotel. This backpacking hostel is super friendly and inexpensive too.
Located in the hills of the village, this hotel has rooms boasting scenic views and a private bathroom. Free Wi-Fi is available for all guests and a 24-hour reception is provided for all your needs. The hotel restaurant and bar serves a range of beverages and breakfast. If you are looking for things to do in Sapa then you can arrange a day trip at reception. The hotel offers billiards and a pool table for your entertainment. The location of this accommodation is ideal for those who want to be close to a range of amenities and attractions.
Lotus Hotel
Alternatively, try the Lotus Hotel. Though rooms in this one-star accommodation are pretty basic, it's very comfortable and each room has a private bathroom, television and free toiletries. Located just 38km from the train station, this hotel offers free Wi-Fi for all guests, a 24 hour reception desk, tour desk and ticket service. The hotel restaurant provides a range of dishes and if you want to explore the area, you can rent a bike at the tour desk.
Where to eat?
Hua And Nay Restaurant
Though Sapa isn't bursting with nightlife, there are plenty of places to grab food or a few drinks. The majority of venues are extremely friendly to tourists so you won't have a problem finding somewhere to stay for a few hours.
Located at 29 Cau May, the Hua and Nay Restaurant is hugely popular with visitors to Sapa. Here, you can order a pizza, sandwich or even Vietnamese dish. You can also order a beer or two if you just want to relax with a beverage. Open until 8 in the evening, it's the perfect place to spend an early evening before heading back to your hotel.
Delta Restaurant
Alternatively, try the exquisite Delta Restaurant at 33 Cau May Street. This restaurant and wine bar serves a wide range of Italian dishes from pizza to pasta. You can also enjoy a nice glass of wine while playing pool or darts. Though it's more expensive than other eateries in the area, this establishment is a popular place to have a bite to eat or quick beverage.
Things to do in Sapa in May
Thac Bac/Silver Waterfall
Similar to April, the month of May is quiet in terms of festivals in the area. However, there are still lots of attractions to visit in Sapa and neighbouring areas.
With the railway and road networks having improved over the years, connecting to different attractions is easy, especially if they're not within trekking distance. One of the main attractions that tourists must visit is the Thac Bac or silver waterfall that is located a few kilometres away from Sapa town.
Sapa Museum
Another great place to explore is the Sapa Museum. Here, you can discover the history and culture of the village, including the colonial period of the French. There are varying exhibitions to view as well as witnessing a demonstration of weaving.
You can also purchase several craft items in the shop. Situated between Fansipan and Thac Bac, it's completely free to enter the museum but take money with you to spend on local items. It's also closed during lunch hours so either arrives early in the morning or in the afternoon.