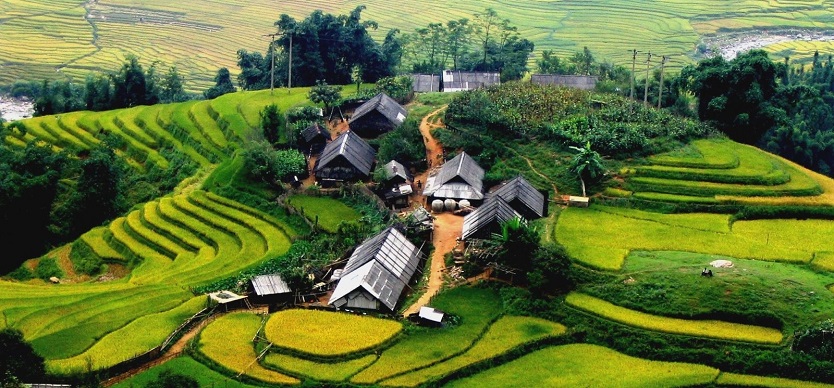 An incredible picturesque town, Sapa is located on the spectacular valley of the Hoang Lien Son Mountains in the North West region of Vietnam. Those visiting the area will witness fantastic foggy panoramic views while enjoying cool and fresh air. The surrounding forest and vegetation cover make Sapa a stunning place to visit with extensive rice plantations that adorn the hills adding to the beautiful setting. November is a great time to visit the town with temperatures settling between 11°C and 17 °C and 4 hours of sunshine per day.
What's the weather like in Sapa in November?
Temperature/Rain
The daily average temperature for Sapa in November is approximately 14 °C. Tourists to the area can expect rainfall with an average of 56mm precipitation during the month. As winter approaches, the weather starts to become milder. However, it's generally slightly warmer than the weather in some parts of Europe.
Humidity
It's a great time to take part in outdoor activities in the area like walking or cycling. Humidity for the town can reach 82% but due to the cooler temperatures, visitors shouldn't expect any discomfort.
Terraced rice fields in Sapa
Where to stay in Sapa in November?
Grandview Spa Hotel
There are numerous hotels and other forms of accommodation in and around Sapa, including the Grandview Sapa Hotel. This affordable residence offers excellent services and facilities with 34 rooms. Each has free Wi-Fi, private bathroom, television, and heating.
Located close to Sapa Church, this convenient hotel is perfect for those who wish to be close to everything that the region has to offer. If you want to stay on-site then have a meal in the hotel restaurant, sit out on the sun terrace or read the local newspaper in the family room. Staff can also arrange a tour of the local area and the 24-hour front desk can also aid any requests that you have.
Where to eat?
Color Bar
Though Sapa doesn't have a lively nightlife, there are several friendly and comfortable eateries that serve good food and welcome tourists. If you are heading into town for a few drinks then stop by Color Bar. Here, you'll find local wines, beers, and other beverages. It's a great place to spend a few hours unwinding from the day's adventures.
Local specialties
Lizard Restaurant
If it's a meal you're after then try the Lizard Restaurant. Serving Vietnamese cuisine, this establishment is located at 10 Cay May Street and is ideal for those looking for a range of foods and drinks. Take your pick from spring rolls, tasty soup or a burger. You can also enjoy a few drinks after your meal too. The location of the restaurant is ideal for those who want to take a look around town before or after a meal.
Turning In
If you want to have a few drinks at a local bar then head to Turning In. This chill out bar is situated at 5 Thac Bac Road and is ideal if you want to sample a few beverages before heading back to your hotel. This well-decorated venue is adorned with rose petals on each table meaning it's also perfect for a romantic evening in town.