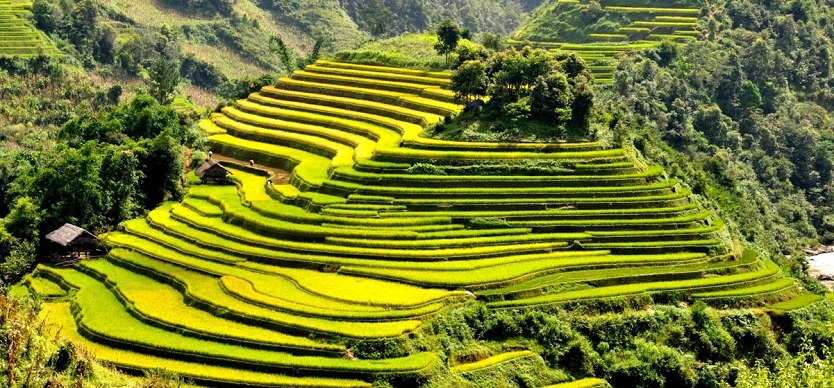 One of the tourist gems of Vietnam is the town of Sapa. Over the past few years, Sapa has become a popular tourist destination due to its beautiful scenery. Located in the North West of Vietnam, the region is surrounded by thick forest cover and expansive rice plantations which make it a true attraction for people seeking to travel to this Asian country. Its weather is largely comfortable and coupled by the varying attractions and fresh air, one will surely want to pay a visit to enjoy the town's beauty. October is a rewarding time for those visiting Sapa with temperatures settling between 13°C and 20 °C and 4 hours of sunshine per day.
What's the weather like in Sapa in October?
Temperature/Rain
The daily average temperature for Sapa in October is approximately 17 °C. Tourists in the area can expect rainfall with an average of 91mm precipitation during the month. Though you can expect rain or drizzle at this time of year, the temperatures are generally higher than in the UK.
Humidity
Humidity for the town can reach 82% but caution is advised as it can feel very muggy and sticky. If you're spending time outdoors then take regular breaks to cool off from the heat.
Market in Sapa
Where to stay in October?
Stone Garden Homestay
For family accommodation or simply those in a group or travelling alone, there are a range of hotels to suit various budgets. If you are searching for a homestay then try the Stone Garden Homestay. Located in Se Seng Village, this hotel offers rooms with free Wi-Fi, a desk, and balcony to observe the scenic views. Furthermore, guests can expect good food from the restaurant, garden and fishing area. The location is super convenient for those who want to be close to a range of facilities and attractions.
Tarvan Ecologic Homestay
Another friendly homestay is the Tarvan Ecologic Homestay. Situated in Tavan Dzay Village, this hotel is just 10km from the center of Sapa and offers visitors the chance to be close to some of the most beautiful sights in the region. Despite only having ten rooms, you can expect free Wi-Fi and 24-hour room service as well as a range of facilities. The bar and restaurant offer many different dishes and drinks while the coffee shop, family room and 24 hours reception desk suit every guest's requests. Guests looking to unwind can make use of the spa and massage facilities as well as relaxing in the garden or spending time fishing.
The Eco Palms House
The Eco Palms House is another recommended accommodation. Here, you'll find a restaurant, gift shop, coffee shop, spa, hot tub and garden all onsite. Located in Lao Chai, this hotel only has six guest rooms with a shared bathroom, however, the hiking trails the establishment offers are ideal for those who love trekking.
Where to eat in Sapa?
Good Morning Vietnam
Though Sapa doesn't have a lively nightlife, there are several delicious eateries to indulge in local delicacies and beverages. A popular restaurant in Sapa is Good Morning Vietnam. This establishment serves a range of Italian, French and Vietnamese dishes to cater for a range of tastes. Located at 33 Muong Hoa, this restaurant also serves cold beer which is perfect if you want to have a refreshing beverage after a day exploring the town.
La Casa Pizza
Alternatively, you might want to check out the La Casa Pizza Restaurant. This friendly and comfortable establishment serves a range of pizzas and dishes to suit varying tastes. You might just want to grab a drink and relax. Either way, this is a great place to be entertained and it's well-liked by tourists.