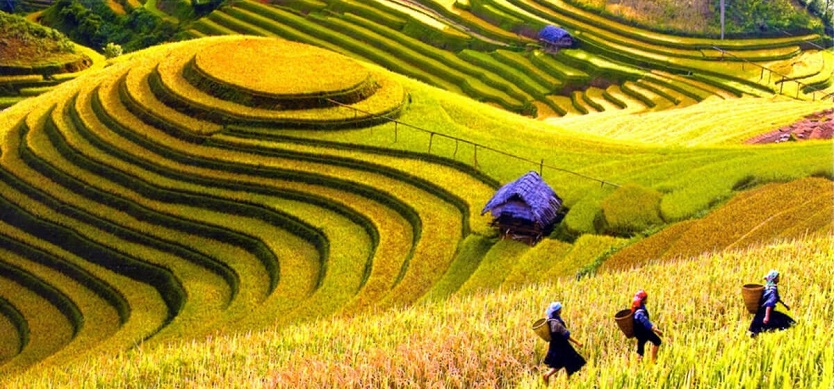 Inhabited by the Dzao and Hmong ethnic groups of Vietnam, Sapa is a growing tourist attraction. This wonderful resort has a lot to offer in terms of beauty and cool weather and these factors have definitely contributed to the popularity with foreign visitors over the past few years. The mountainous setting and subtropical climate complement the many activities that the region has to offer. In the month of September, the weather can be quite mixed with temperatures settling between 16°C and 23 °C and 5 hours of sunshine per day.
What's the weather like in Sapa in September?
Temperature/Rain
The daily average temperature for Sapa in September is approximately 20 °C. Tourists to the area can expect rainfall with an average of 268mm precipitation during the month. September is said to be one of the wettest months in Sapa but it's one of the few places where visitors can experience all four seasons in one day. Therefore, don't be surprised if it's clear and sunny in the morning and heavy rainfall in the afternoon.
Humidity
Humidity for the town can reach 82% but due to the temperatures, visitors should be warned that heat exhaustion and fatigue can occur at this time of year. If you're planning on exploring the outdoors then drink lots of water to stay hydrated and ensure that you take regular breaks from the heat by going indoors to cool off.
Where to stay in September?
U Sapa Hotel
Accommodation in Sapa can be relatively cheap but comfortable. Both families and individuals will find something suitable for all budgets. If you're looking for comfort then take a look at the U Sapa Hotel. Located in the centre of town, this accommodation provides 57 rooms with free Wi-Fi. The convenient location and range of facilities at the hotel make this one of the best places in Sapa to stay.
Guests can look forward to a fitness centre with a spa and sauna both on-site too. It's the perfect place to unwind after a long day of adventure. You might also want to visit the hotel restaurant, library or tour desk to make arrangements for a city exploration. Rooms here are modern and clean with a private bathroom and 24-hour room service available.
Asiana Sapa Hotel
Alternatively, check out the Asiana Sapa Hotel. Situated close to the town centre, this establishment offers a range of amenities for tourists to enjoy. Tennis courts, billiards, table tennis and a solarium are all on site to help you to relax during your stay.
Each guest room has a private bathroom, free Wi-Fi and 24 hours room service to cater to your needs. A shared kitchen is available as is a restaurant but the handy location of the hotel means you are close to many cafes and restaurants if you want to head out to eat. A lounge area, shuttle service, car hire and family room makes this accommodation great value for money.
Where to eat in September?
Little Sapa
Though Sapa doesn't have a lively nightlife, there are several friendly establishments that serve food and drinks. If you're heading into town then visit Little Sapa on Cau May Street. Open until ten in the evening, here you'll find a range of Vietnamese and European cuisine from hearty soups to burger and chips.
Lucky Daisy's Bamboo And Buffalo House
Alternatively, you might want to head to Lucky Daisy's Bamboo and Buffalo House. This highly popular restaurant is located 10 km from Sapa and serves breakfast through to dinner. Guests can take advantage of the free Wi-Fi available to keep in touch with what is going on in the world.
If you're after a refreshing drink then this is the perfect place. Grab an ice cold beer or relax with a coffee. This friendly restaurant serves a range of Vietnamese cuisine and is the ideal place to unwind after a long day hiking in the area.