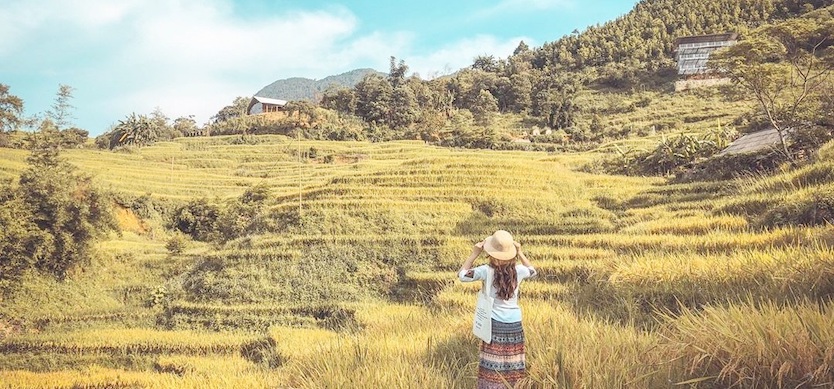 If you travel to Hanoi on summer days, the weather here may make your trip imperfect because the summer here is very harsh, dry and hot, and the temperature is always at 30-40 degrees Celsius.
Therefore, you can choose to go to places near the city to avoid heat like Sapa, Tam Dao, or Co To island. This is because these places have special locations, either near the sea or at high altitude, promising that your summer in Northern Vietnam will be extremely cool and fresh.
In this article, we will take you to the best places to enjoy the vibrant summer in North Vietnam.
Top Northern places to visit in summer
Co To island

Sapa

Mai Chau

Tam Dao

Ba Vi National Park
Co To island
Co To island
Co To has many beautiful beaches, of which Hong Vu and Nam Hai are the best ones. Hong Van beach is beautiful and wild with white sand like velvet. In the evening, the whole beach turns pink as its name saying.
Nam Hai beach is located near the district center, a suitable place to enjoy seafood at night and take a walk in the moonlight. While walking on Love road - the 2.1 km dreaming red brick road, you can listen to the waves and the whispering of casuarina.
Coming to Co To, you can stay at hotels, motels, or homestays on the island. In addition, Co To has a new form of accommodation, promising to bring a lot of interesting experiences to you - camping on the sea. There is also a barbecue party service on the beach for travelers.
Sapa
In summer, you'll need guides for backpackers in Sapa to avoid heat. It is a famous tourist destination with a cooling climate.
In Sapa, there are many hotels with different prices for you to choose from. Large hotels often have a restaurant and also offer a free buffet breakfast (included in room rates).
Sapa cuisine is quite plentiful, easy to eat. You can enjoy dishes from the mountains here such as highland pork, chayote, especially salmon and grilled dishes, etc.
After a day playing and exploring the town, do not forget to enjoy the Dao herbal bathing and foot massage service here to dispel all the fatigue in your body.
Mai Chau
Trekking in Mai Chau
This is a very beautiful valley amid the majestic mountains of the Northwest. Its topography is high, surrounded by mountains and greens, so the climate here is cool and fresh all year round. In the early morning, it is misty. In the afternoon, there is light sunshine, and in the afternoon, the temperature becomes lower.
From Hanoi, it takes you only 3 to 4 hours to ride through the winding roads around the mountainside like Doc Cun and the legendary Thung Khe pass.
You can rent a resort in a high position or stay at a hotel depending on your leisure preferences. Otherwise, you can choose to take part in a Mai Chau trek and stay in a homestay with indigenous people.
Tam Dao
Arriving in Tam Dao on the sultry summer days, tourists seem to be lost in an airy and fresh paradise.
Tam Dao town (Vinh Phuc province) was built by the French colonial government on Tam Dao mountain range to be a place of relaxation from the early 20th century. Located on a height of 900m, this place has a cooling climate with 4 seasons in a day.
Like Sapa or Da Lat, Tam Dao is famous not only for its pleasant weather but also for specialties, typically chayote.
Ba Vi National Park
Ba Vi National Park
50 km from the center of Hanoi, Ba Vi National Park has a very cool climate due to its high mountainous terrain, large forest cover, especially in the summer (April to October). In winter, clouds covering all the regions encompass an impressive landscape.
With cooling and fresh nature all year round, Ba Vi National Park is not only known as the "Lung" of Hanoi capital but also home to hundreds of wildlife species, of which many rare and precious species are named in the red book of Vietnam.
Standing on the top of the mountain, you can watch the sky, mountains, valleys, rivers, and lakes alternating bands of silver clouds, making your soul ecstatic.
The Northwest in autumn is extremely charming and beautiful that you should visit once in your lifetime. Hope that with our guide of where to see the Northwest beauty, your vacation here will be memorable than ever. Please like and share the article with others if it's useful for you. Thank you.