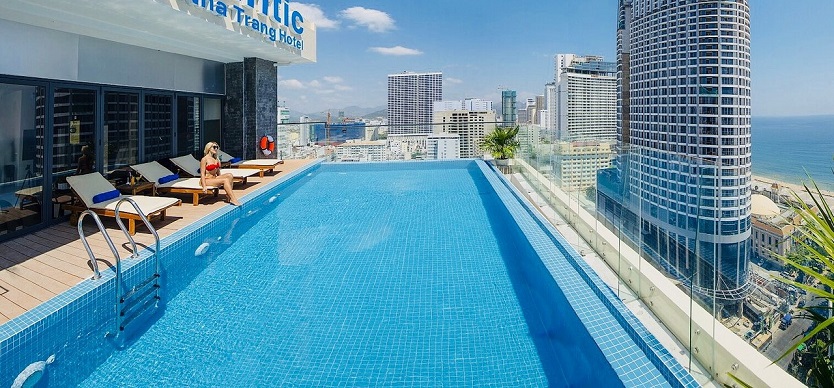 If you've read our previous post about top attractions in Nha Trang and wondering where the best hotels to stay are, then you're in the right place.
As one of the most attractive destinations for tourists, this coastal city offers a wide range of accommodation, from the budget to the luxury ones.
In this post, we're going to introduce top 5 worth-staying resorts for your Nha Trang trip. Let's see.
Six Senses Ninh Van Bay
Six Senses Ninh Van Bay Resort is located in Ninh Van Bay, Ninh Hoa district, Khanh Hoa province with an area of ​​up to 26,000 square meters.
The resort owns 54 luxury villas designed in French architectural style combined with the traditional features of Vietnam with the rustic thatched roofs.
Located on the most beautiful and famous peninsula of Nha Trang Bay, Six Senses Ninh Van Bay offers guests a fresh natural atmosphere and cool sea breeze blended in the early morning fog of mountains, giving tourists a peaceful feeling that completely separates from the bustle of the city.
Six Senses Ninh Van Bay Resort is considered one of the most beautiful "islands" in Nha Trang which charms every visitor in the resort.
Six Senses Ninh Van Bay
Vinpearl Resort Nha Trang
Built on Hon Tre island - the largest and most romantic island of Nha Trang Bay, Vinpearl Resort & Spa Nha Trang is in the harmony with peaceful nature, Vietnam best beaches, and pristine vegetation, bringing the privacy for tourists.
Nevertheless, it is very easy to access the city center with the longest ferry and cable car system through the sea in the world.
Vinpearl Resort & Spa Nha Trang Bay includes 500 luxury rooms at international standard and 147 villas overlooking the sea.
With an area of 333-770 square meters and a space of modern architecture yet is still environmentally friendly, each villa is accompanied with a modern swimming pool and green garden, opening the sky for the peace and absolute privacy.
Evason Ana Mandara Resort
This is the second most expensive resort in Vietnam. This 5-star resort has been recognized by the famous Forbes Magazine as one of the top 50 most desirable resorts. 68 rooms are built in traditional Vietnamese architecture with thatched roofs, wooden floors, curtains, and flowering paths.
Evason Ana Mandara Resort
From the spacious balcony of their room, visitors can admire the view of the deep blue ocean of Nha Trang Bay.
Guests staying at the beach resort in Vietnam can learn cooking, picnicking, fishing, or having an offshore breakfast on a boat which is only for two people.
If travelers have children, they can play with their children in the kids' club, children's pool, or enjoy the fresh seafood, Vietnamese and international dishes processed on request of the guests at the outdoor Beach Restaurant or Ana Pavilion Restaurant.
Sheraton Nha Trang
Sheraton Nha Trang is located on Tran Phu street right in the center of Nha Trang city. It is about 36.3 km from Cam Ranh Airport and 1.5 km from Nha Trang Station.
The hotel went into operation in late 2010. This is the first international 5-star hotel in Nha Trang, currently managed by Marriott Corporation.
With 280 sea-view rooms and balconies, the hotel offers comfortable accommodation with panoramic views of Nha Trang Bay. There are 6 modern restaurants and bars, of which Altitude is the highest bar in Nha Trang on the 28th floor. Other facilities include an outdoor pool with unique shoreline design, Shine Spa with 9 modern rooms, Sheraton Fitness gymnasium opened 24 hours, and Sheraton Adventure Club for children.
Sheraton Nha Trang
InterContinental Nha Trang
Located on Tran Phu street, InterContinental Nha Trang is the newest five-star international hotel in the city. The hotel consists of 279 luxurious rooms which are designed in a modern style. The spacious balcony of each room is the ideal place for tourists to see the sunrise on Nha Trang Bay.
For those who passionate about gourmet food, the restaurant, and bar of the hotel promise to bring them the best dining experience. Cookbook Café - The hotel's main restaurant serves a la carte menu and buffet in the evening. Guests can also enjoy a cocktail at the Lobby Bar in the hotel's main lobby or at Aqualine Bar while dipping in the largest outdoor pool in Nha Trang.
InterContinental Nha Trang
Nha Trang is famous for the clear blue waters, long smooth white sand, and high-class hotels and resorts that are always ready to welcome visitors. What is better than experiencing the beautiful Nha Trang nature in the most state-of-the-art and luxury atmosphere of these hotels and resorts? If you need more information, feel free to contact us and don't forget to like and share it with others. Thank you.