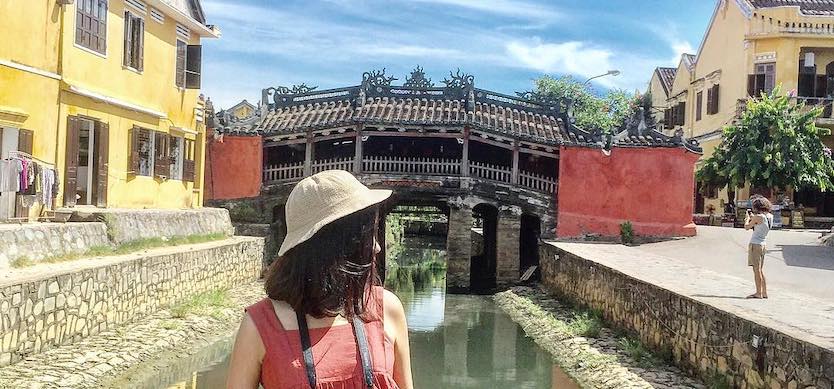 Central tourism is always attractive to visitors with delicious food, beautiful beaches, and dreamy islands that few places have. Besides, when you come to this land, you can discover places and historical sites that have existed for thousands of years.
However, extreme weather is one of the characteristics of this land. Hence, when you want to explore the Central region, in addition to learning about the most desirable places, you should understand the best time here to be able to save the most memorable moments with relatives and friends.
So, when is the most beautiful time in Central Vietnam?
The answer is summer, which lasts from April to September.
If you don't want to suffer too much sunshine here, you should choose early or late summer. At this time, the weather is more pleasant and the price is not as high as the peak months. Moreover, you can avoid having to squeeze because the number of visitors coming in the middle of summer is too crowded.
However, in the middle of the season, it is very hot and also is the holiday time for most travelers. So, if you still want to come here in May - June, Central Vietnam will make your hotness go away with beautiful beaches and pristine islands.
After choosing for yourself the best time to travel to the Central, come to the following locations to get the best experience.
Top places to visit in Central Vietnam
Nha Trang
Nha Trang city
Nha Trang has the ideal conditions to become a beach paradise, deserving the top destination of sea tourism in Vietnam and the region.
Not only does it have long blue beaches, a few large and small untouched islands but Nha Trang is also an ideal destination for those who love culture - history since it is the land of the flourishing old Champa Dynasty.
Quang Nam - Da Nang
As the intersection of the Vietnamese, Chinese, Indian, Sa Huynh, and Cham cultures, the tourist sites in Quang Nam are deeply nationalistic with tangible and intangible cultural values.
Through many ups and downs, Quang Nam still retains unique cultural resources, has deep human values, especially the two world cultural heritages of Hoi An ancient town and My Son sanctuary.
Nature also favors Quang Nam with extremely valuable natural resources and marine resources.
Dubbed as "the most worth-to-come city in Vietnam," the coastal city of Da Nang attracts millions of visitors each year because of its youthful, civilized, and modern appearance.
In addition, when coming here in the summer, visitors will have the opportunity to admire the fireworks displays of teams from around the world.
Hue
Visiting Hue
Hue is associated with the dreamy and ancient appearance of the ancient capital. However, it has not only old relics where to visit when traveling to Hue ancient capital. Being the center of the Central, Thua Thien - Hue province in particular and Hue city, in general, are favored by nature when lying among many beautiful scenes of the sea, rivers, mountains, and passes, etc.
Moreover, Hue is a treasure of culinary, a combination of sophistication and rusticity, making those who have tried it never forget.
Binh Dinh - Phu Yen
Binh Dinh tourism has long been famous for its beautiful and exciting places. The province is like a natural treasure with a long coastline stretching through Quy Nhon, Tam Quan, Tan Thanh, Vinh Hoi, Trung Luong, Hai Giang, Yen island, beautiful beaches of Hoang Hau, Quy Hoa, Bai Dai, Tan Phung, Vinh Loi, and attractive craft villages such as Bau Da wine, fine arts, pottery, Song Tham noodles, coconut rice paper, and sesame rice paper.
Phu Yen has a gentle and charming beauty while embracing two passes of Cu Mong pass which borders Binh Dinh and Ca pass which borders Khanh Hoa. The highlight left in the heart of tourists when coming here is a picture of rice fields, flying storks, smooth blue beaches, fresh lagoons, or exciting basalt columns.
In the summer, the scenery of Phu Yen is added to its vitality, making the scenery here brighter and more vivid. The golden rice fields shone in the sun. The beaches and the stone walls also sparkle when the light shines.
Quang Ngai
Quang Ngai beaches
Ly Son island is an island district in Quang Ngai province, famous for the garlic cultivation. Besides, this island is also popular for its abundant natural beauty.
Coming to Ly Son, you will admire the beautiful scenery of the blue sea, white sand, golden sunshine, and mountains in the sea.
In addition, you can visit the ancient pagodas on the island such as Hang pagoda, Duc pagoda, Ngoc Lord Lady temple, etc.
Each pagoda in the Mekong Delta has a different beauty, but if you want to explore the characteristics of the Southwest, you cannot ignore the 5 pagodas above. For further information about the attractive Da Nang - Hoi An - Hue 4 days group tour, feel free to contact us or visit our website. Please like and share the article with others if you find it useful for you. Thank you.