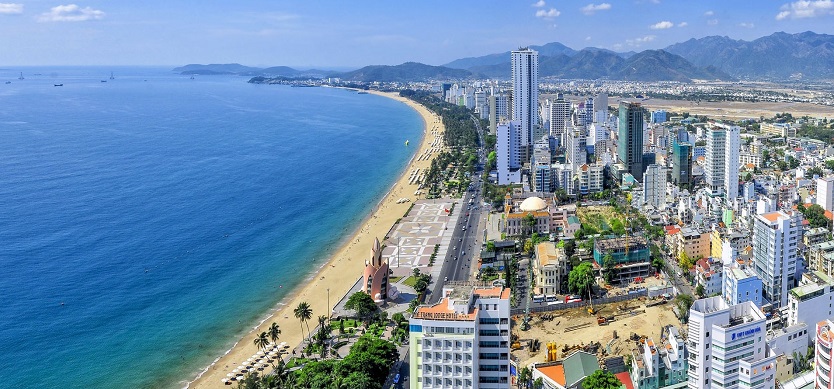 The picturesque beauty of Nha Trang makes it an appealing destination for a lot of tourists.
Coming here, you can join loads of interesting activities, stay in luxurious resorts and savor delicious foods.
But, where are the best places to visit in Nha Trang?
If you're planning for your trip there then do not miss our post below.
Where are the best places to visit in Nha Trang?
Nha Trang Vinpearl Land
Ninh Van Bay
Nha Trang Oceanographic Museum
Ponagar Cham Tower
Hon Tam Island
Husband - Wife Islet
Nha Trang Vinpearl Land
The first place to visit in Nha Trang is Vinpearl Land. Known as the Tropical Paradise, Nha Trang Vinpearl Land is located on the Bamboo Island surrounded by the blue sea.
This place attracts tourists not only by the luxurious resorts and spectacular natural gardens but also by the thrilling games and 4D movie theatre followed the Hollywood standard.
You can get there by the cable car or canoe from the Nha Trang city centre. You should spend at least one day to explore Vinpearl Land.
Nha Trang Vinpearl Land
Ninh Van Bay
Along with Nha Trang Bay, Ninh Van Bay is as beautiful as a dreamy fairy in the vast blue sea. Located on Hon Meo peninsula, Ninh Van Bay is about 60km from Nha Trang city, so visitors can get here by high-speed boat, and can enjoy the panoramic view of the beautiful Nha Trang.
Ninh Van has pristine and pure beauty, which is suitable for travellers who want to experience a relaxed feeling amidst the peaceful space. Under the ocean of Ninh Van Bay is the enchanting beauty of colourful coral reefs.ng bay from the ship.
Currently, this place is being invested and developed into a world-class resort but still retains the inherent wild features of nature. The resorts are built in harmony with nature from the quiet bamboo cottages with lush coconut trees.
Interior architecture is also made of wood, bamboo and other natural materials. In Ninh Van Bay, visitors will have the opportunity to experience many interesting activities such as snorkelling, watching coral, surfing, swimming or kayaking.
Ninh Van Bay
Nha Trang Oceanographic Museum
Situated about 6 kilometres from Nha Trang centre and built in 1923, this Oceanographic Museum is an ideal place to explore the mystery of the ocean. It is home to over 20,000 specimens of more than 4000 different marine creatures that have been searched, collected and carefully preserved for many years.
Ponagar Cham Tower
Located about 2 kilometres from Nha Trang City to the North, the Ponagar Cham Tower is a perfect ancient architecture that Cham people left. This relic includes two shrines and four towers, of which the largest one is the tower of Ponagar goddess. After visiting this tower, do not forget to experience the mud bathing in the Thap Ba hot spring.
Hon Mun Island
The World Wildlife Fund has assessed Hon Mun as the first marine biodiversity area in Vietnam. Thanks to the clear water, you can easily see the activities of the sea creatures under the sea. Some popular things to do there are diving to see the coral, snorkelling, and party.
Hon Mun Island
Hon Tam Island
Located about 7 kilometers on the Southeast to Nha Trang city center, Hon Tam covers an area of 110 hectares. This is the place where you can see the panoramic view of Nha Trang and Cam Rang Peninsula. There is a very stunning beach here with many fascinating activities such as windsurfing, scuba diving, sailing, walking on the beach, playing volleyball, climbing, exploring the primary forest and camping.
Husband Islet - Wife Islet
This destination is located about 3 kilometres from the city centre to the Northeast. The Husband Islet is a large block of rock with a variety of stacked shapes. Another smaller group located at the eastern foothills is called the Wife Islet. The Husband islet is almost separated from the bustle of the city. It's also the best place to see the most beautiful coastal city Nha Trang.
There are also many interesting things in Nha Trang waiting for you. Don't hesitate to take tours of Vietnam and explore this place right now. You can visit our website for more information about tours to Asia. Share this article if it's useful for you. Thank you!