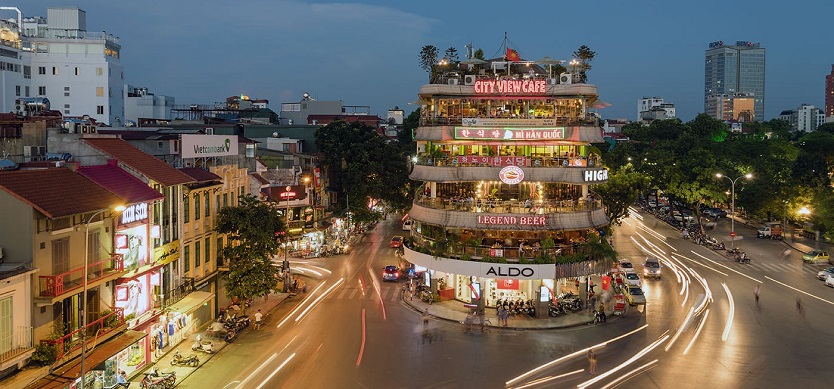 Hanoi always attracts tourists by its amazing cuisine, the diverse cultures and a lot of beautiful places to visit.
There is no shortage of things to do when traveling there. Each one will give you different experiences of this thousand-year-old city.
If you are about to visit Hanoi and wondering what to do, take a look at our post below.
Visit Hoan Kiem Lake in the early morning
Triston Yeo – a famous photographer voted that visiting Hoan Kiem Lake in the early morning is a wonderful thing. Tourists not only feel the peace of nature but also see the daily routine of Hanoians – morning exercise in whichever season.
Visitors can walk around the lake to feel the fresh air, sit on a chair to see the things around or even join in aerobic.
Enjoy street foods
Hanoi is famous for its street vendors. Everyone coming to the capital is surprised by the variety of food that is sold here, from Vietnamese Pho to dishes such as fried noodles, cherry, sugarcane juice, and even the dishes have made the soul of the capital such as Thanh Tri rolls or bun cha ...
Visiting Hanoi at any time of the year, visitors can choose for themselves delicious food. Be mindful to find seasonal delicacies to feel the full range of Hanoi cuisine on the sidewalk vendors with your Hanoi private food tour.
Pho in Hanoi
Admire the panoramic view of the city from above
Don't forget to find an ideal place to see Hanoi from above when traveling there. This activity can bring you amazing experiences. You can observe the city in the morning or at night, depending on the time and place. You should come to a place in both times to see the differences.
Wander around the Old Quarter
Hanoi Old Quarter is always the most attractive destination in Hanoi. With the chessboard design and the streets are parallel to each other, it's not easy for everyone to easily find their way when getting lost in this "maze". Walking around bustling streets or dropping by souvenir shops at the small corners are Hanoi top things to do which can bring amazing experiences for tourists. When getting tired, you can find a café on a balcony to see the vibrant life of Hanoi.
Hanoi Old Quarter
See the sunset at West Lake
Situated in the Northwest of Hanoi, West Lake is a popular destination for a 1-day city tour in Hanoi. Many visitors come to enjoy the speciality that only can find here or immerse in the peaceful spacious atmosphere. In the afternoon, West Lake becomes fanciful in the yellow and red of sunlight. You can stop and take wonderful photos.
Explore the city by bus
Besides the electric car and cyclo, the bus is the vehicle that tourists should experience when coming to Hanoi. Not only is the cheap price, but traveling by bus you can also visit most of the famous tourist attractions in Hanoi. With two eye-catching color red and yellow, buses can be the highlight in your photos.
Attend the flag-lowering ceremony at Ho Chi Minh's mausoleum
If you can not get up early to witness the flag-raising ceremony, you should attend the flag-lowering ceremony at Uncle Ho's mausoleum at 9 pm daily. This is a sacred ritual that many visitors, even the Hanoians look for. Activities at Ba Dinh Square are stopped when the loudspeaker begins announcing the preparations for the flag-lowering ceremony.
The national flag will be lowered by an army of 34 soldiers stepping from the right side in the music "Bac van cung chung chau hanh quan". Many visitors are surprised when seeing many people stand solemnly and watch the flag slowly lowered.
Taking a walk in Long Bien Bridge
Long Bien Bridge
Long Bien bridge is a historical witness of Hanoi that attracts a lot of visitors. This bridge was built in 1898 with 3 lanes, the middle one is for the train. With the ancient and impressive appearance in architecture, Long Bien Bridge has appeared in many works of some foreign artists as well as some projects of young Vietnamese. Taking a walk on the bridge in the early morning or late afternoon would be a fun and unforgettable experience.
Visit Dong Xuan night market
Dong Xuan night market is known as the busiest market in Hanoi Old Quarter. It opens every evening and becomes a shopping destination for not only Hanoians but also tourists travelling to the one-thousand-year capital.
Coming here, you cannot take your eyes off the paradise shopping from clothes, shoes, accessories to colourful souvenirs.
Don't forget to enjoy the flavour of Hanoi such as pho, snail noodles, mixed sweet gruel, and salted dry apricot and immerse in the vibrant atmosphere here at the weekend.
Have some beer Ta Hien street
Situated in the center of Hanoi Old Quarter, Ta Hien street is famous for beer. From the evening, this place becomes a place of many people including students, employers, especially backpackers from all over the world. Coming here, you can also enjoy some delicious street food such as pancakes, mixed noodles, and grilled quail eggs.
We hope that after reading this article, you can choose the most favorite activities for your upcoming trip to Hanoi and get a memorable time. Visit our website to get further information about Hanoi. If you have any questions, feel free to contact us. Have a nice trip.