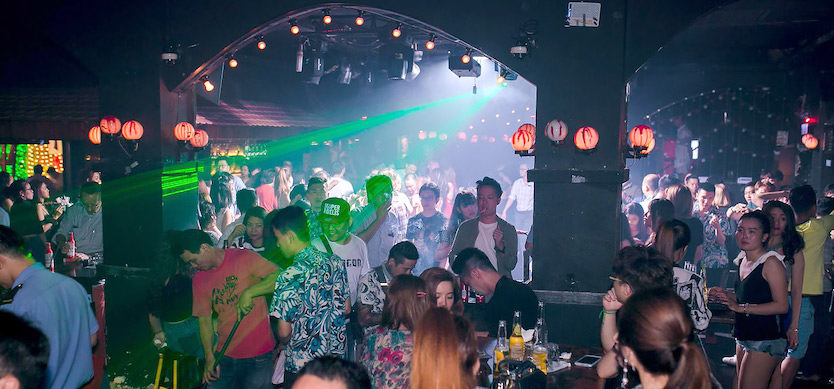 Ho Chi Minh canals boat tour attracts those who love the vibrant pace and endless nights with many interesting activities. You can go to the night eateries on Nguyen Hue Walking Street, enjoy cocktails at rooftop bars, or walk at Saigon Opera House, etc.
Among them, the most exciting experience is probably spending a night letting your hair down at best nightclubs in Saigon.
If you do not know the most popular and funniest addresses, don't miss this article. We will offer you 6 nightclubs in Saigon that will make your trip more memorable than ever.
Best-rated nightclubs in Sai Gon
Lush nightclub

Apocalypse Now

Republic Club Ho Chi Minh

MGM Club

Gossip Club

Sin Lounge
Lush nightclub
Opening Hours: 08:00 pm – 02:00 am
Address: 2 Ly Tu Trong, District 1
Lush Night Club
Lush Nightclub is a familiar address for young people in Saigon at night. Operate quite long since 2004, yet this nightclub has a very modern and vibrant space with a spacious dance floor.
You can choose to sit at a table on the floor or take a panoramic view from an upstairs deck. Therefore, space here is very wide and comfortable for you and your friends to enjoy moments of fun.
Besides, the location of this nightclub is also very convenient. You can visit and eat at Ben Thanh night market then come here with just 5 minutes walk.
Apocalypse Now
Opening Hours: 07:00 pm – 04:00 am
Address: 2B-C-F Thi Sach, District 1
Apocalypse Now draws attention to foreign tourists because of its comfortable and "very Western" space. You'll have moments of fun at the club with lots of drink deals and a good mix of pop and trance tunes here.
In particular, it is open from midnight to 04:00 am. Therefore, you will not mind as the fun must end in the middle when choosing this vibrant nightclub.
Republic Club Ho Chi Minh
Opening Hours: Tuesday – Sunday 09:00 pm – 02:00 am
Address: 19 Do Quang Dau, Pham Ngu Lao Ward, District 1
Republic Club Ho Chi Minh
It can be said that this is one of the addresses with the most outstanding and youthful decoration in the nightclubs in Saigon. Therefore, it is not difficult to explain why it attracts a lot of tourists, especially young people.
This club offers guests a wide selection of drinks, including cocktails, beers, and champaign, etc. In addition, on Tuesday, Wednesday and Thursday, you will also receive many attractive offers when coming here from 09:00 pm.
MGM Club
Opening Hours: 08:00 pm – 02:00 am
Address: 172C Nguyen Dinh Chieu, District 3
MGM has a fairly tight space and location. It is placed in a 4-storey building in Nguyen Dinh Chieu street. Therefore, this place is suitable for those who love the focus on music and alcoholic beverages. Let's order a beer at the table and enjoy a mix of techno and house.
This type of music is easy-to-listen for beginners but you will get the high feeling after when the alcohol has begun to soak. Drinks with music will really make you not want to go back to the hotel.
Sin Lounge
Opening Hours: Monday – Saturday 09:00 pm – 03:00 am
Address: 22 Le Thanh Ton, District 1
Sin Lounge
Not as bustling as other nightclubs in HCMC, Sin Lounge is an ideal venue for those who desire to enjoy luxurious space with rich music and drinks.
Although it does not bring the rushed atmosphere, it still allows you to enjoy commercial house tunes and themed events. You will not find it boring but become a highlight for your trip to Vietnam.
Gossip Club
Opening Hours: Monday – Thursday 08:30 pm – 03:00 am, Friday – Sunday 08:30 pm – 04:00 am
Address: 79 Tran Hung Dao Street, District 1
If you are a traveler looking for the top 7 crazy things to do in HCMC, then the Gossip Club will be your best bet.
With modern lighting, music system and the presence of various international DJs, this place is a familiar address for the rich and celebs in Saigon to enjoy the night. Besides, rich foreigners also account for a significant number of guests here.
Coming to Gossip Club, you can find a list of expensive drinks imported from many countries around the world.
With the best nightclubs in Saigon that we have offered, surely, you will have no regrets on your trip to Vietnam. For further information, don't hesitate to contact us or visit our website. If you find the article useful for you, please like and share it with others. Thank you.