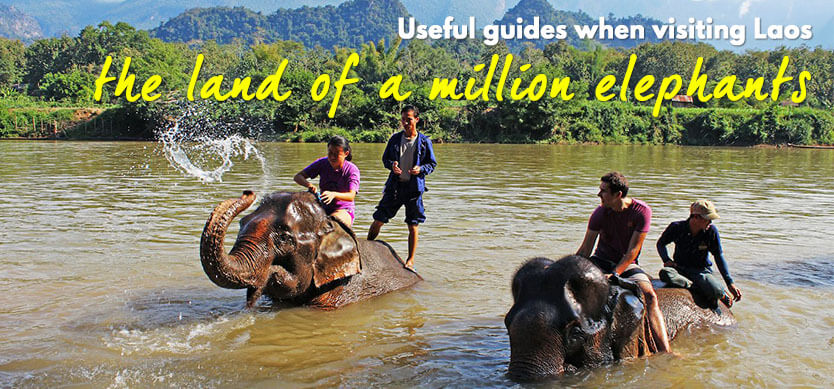 With special cultural features, temples with special architecture, delicious food suitable for Vietnamese taste, Laos is a destination that many young people choose during their journey of discovery. If you are planning a Laos tour, let's refer our Laos travel guides!
Where is Laos located?
Laos is a Southeast Asian country with dense forests covering rugged hills and no seas in Southeast Asia. Laos is bordered by China about 416 km in the north, Myanmar about 230 km in the northwest, Thailand about 1,730 km in the southwest, Cambodia about 492 km in the south and Vietnam about 2,067 km in the east. The highest peak of Laos is the 2,817m high Phou Bia with some plains and plateaus. The country of Laos is blessed by the Mekong. This river is both a plentiful source of hydrology and the axis of traffic of the country which is a unifying element of Laos geographic. The river delta, though narrow but fertile, is the granary of Laos.
Climate of Laos
The climate of Laos is the tropical climate of the monsoon region with two distinct seasons including rainy season and dry season. The rainy season lasts from May to November, and the dry season runs from December to April next year, which can also be considered as the best time to travel to Laos. At this time, the average temperature is about 15 - 30 degrees Celsius.
Travel to Laos - "the land of a million elephants" (youtube.com)
What to bring when visiting Laos?
- Passport
- Hats, masks, sunglasses, sun visors, gloves
- Take soft shoes so that you do not get sunburn in the summer and get cold in the winter
- Take medicine for basic diseases
- Bring sunscreen, lotion and insect repellent
- Buy sim phones at the border gate
- You can use USD, Kip and Vietnamese currency in Laos, but limit the unnecessary incidents when traveling in the countryside, you should change the Kip.
Attractive destinations you shouldn't miss when visiting Laos
Arc de Triomphe Patuxay
Prominent on Lane Xang Boulevard is the Patuxay Arc de Triomphe, formerly known as Anou Savary. The Arc de Triomphe is located between the border of Vientiane City and That Luang area. Built in 1958, the outside part of Anou Savary was designed in imitation of the Arc de Triumphe in Paris, but the inside has the typical architecture of Laos. Standing on the highest floor of Anou Savary, we can see the Vientiane panorama.
Arc de Triomphe Patuxay
Buddha Park
The Buddha Park in Xieng Khuan is located 25 km southeast of Vientiane. There are more than 200 statues of Buddhists and Hindu figures made of concrete, featuring a huge 40-meter long Buddha statue. There are also statues of people, gods, animals, and demons.
Buddha Park
(Wat) Phra Keo
Visiting Phra Keo Pagoda in your Laos tour, you will feel like losing in the "world of art" by the sculptures, carvings and rare objects which are inlaid with gold, silver, shimmering colorful jade. Phra Keo Pagoda not only worship Buddha statue but also has a museum showing many works of Laos Buddhist art. Wat Phra Keo is an important and well-known temple just after That Luang in Vientiane.
Visit Phra Keo
That Luang
At the end of Lane Xang road is That Luang - the world cultural heritage, the symbol of the Lao Theravada Buddhism, which is printed on paper money and the emblem of the Laos People's Democratic Republic. That Luang is a Buddhist stupa built in 1566 on the ruins of a 13th-century Indian temple, gilded in gold. That Luang is the largest and most beautiful citadel in Laos. In mid-November every year, there is a national That Luang festival taken place here.
That Luang
Wat Ong Teu
Situated on Setthathilath Road, this destination attracts tourists by the largest bronze Buddha statue. This name means the Great Statue. There is a Sangha Buddhist School where monks from all over Laos come here to study Buddhism.
Wat Ong Teu
Phou Si Mountain
Phou Si Mountain is the highest point in Luang Prabang. This mountain is the ideal place for visitors to admire the panoramic view of the peaceful capital near the Mekong River. To conquer the Phou Si peak, visitors must cross 329 steps built of red brick. Each step is wide and low enough, the middle of the road has the stop to rest, so visitors can reach the mountain without too much difficulty.
The road to Phou Si Mountain
The delicious dishes you should try in Laos
Tam Ma Hung (Papaya salad)
This is almost the indispensable food in Laos. Papaya is mixed with lime juice, shrimp paste, paprika, pepper, chili. Papaya can be eaten with beer or eaten with sticky rice. The dish is quite similar to the son tam of Thailand.
The indispensable food in Laos
Khausoy
This is the famous dish in Luang Prabang. The outside look is similar to "Pho" but the ingredients are much simpler. Khausoy is the most important ingredient of this dish, made from pureed pork mixed with garlic, tomatoes and some spices.
Khausoy
Laos noodle
This dish which is different from "Pho" in Vietnam is to use only bone broth, then let customers themselves add spices and eat with the pig's blood
Savanakhet roasted chicken
This type of chicken is used to roast which is like chicken in the countryside so its meat is fragrant, delicious and firm
Savanakhet roasted chicken
With its special features of culture, history, and nature, Laos will be an interesting destination for tourists in this summer. To know more information about Laos tour, via our website. Share this article if it is useful for you. Have a great trip to Laos!