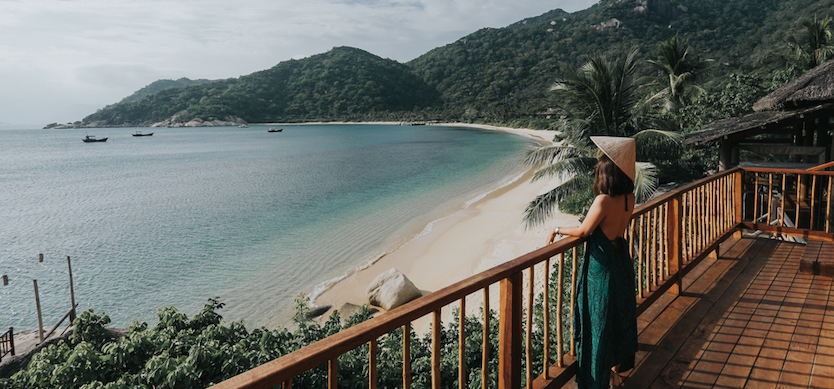 Traveling to a country in tropical climates bordering the East Sea like Vietnam will not lack exciting experiences in the clear blue beaches and pristine islands.
From the North to the South, visitors can harmonize themselves with the natural paradise of the beach. But, do you know which spot offers you the most diverse experiences in different beaches, islands, and bays?
The answer is none other than the province of Khanh Hoa. You will find this place more familiar with Nha Trang bay, Nha Trang city, but it has more than that.
Let's find out.
Khanh Hoa achieves a record to own the largest number of beautiful bays in Vietnam
Nha Trang - Khanh Hoa Sea Festival 2019 has the theme "Nha Trang - Colors of the Sea" with many events and contents with traditional cultural values to promote the strengths of island tourism and promote more the tourist brand of this land.
Outstandingly, Khanh Hoa is considered by the nation as the locality having the largest amount of beautiful and famous sea bays on Vietnam package tours.
Khanh Hoa is a land favored by nature, a rare locality of Vietnam possessing many beautiful bays known by the world, of which the most prominent ones are Nha Trang bay (Nha Trang city), Van Phong bay (Ninh Hoa town), and Cam Ranh bay (Cam Lam district, Cam Ranh city).
Beautiful bays of Khanh Hoa province
Nha Trang Bay
Nha Trang bay

Ninh Van bay

Cam Ranh bay

Van Phong bay

Nha Phu bay
Nha Trang bay
Since 2003, Nha Trang Bay has been recognized as one of the 29 most beautiful bays in the world because it converges all types of terrain, from mountains, islands, rivers, lagoons to fields and villages.
Nha Trang bay has a year-round fresh and cool climate with mild sunshine, making the scenery here always peaceful and romantic. But the characteristics attracting domestic and foreign tourists to Nha Trang bay the most is that there are many famous landscapes here, including islands of Hon Tre, Hon Tam, Hon Mun, Husband and Wife, and Bich Dam fishing village, etc.
Ninh Van bay
Ninh Van bay is considered an oasis located separately from the mainland in Ninh Hoa district. Nature here still retains the most natural and unspoiled features with long white sand, blue beaches, or high mountains surrounded by immense forest.
In addition, Ninh Van bay is also the resort paradise of Nha Trang with many luxury resorts such as Six Senses Ninh Van Bay, An Lam Ninh Van Bay, and White Sand Doclet Resort & Spa, etc.
Cam Ranh bay
Cam Ranh Bay
Apart from being a military port, Cam Ranh bay also contains unique tourism potentials.
The bay has golden white sand running along pristine beaches, creating a deep blue silk strip imprinted under the clear blue sky. Especially, granite rapids with many unique shapes are also one of the outstanding features that make Cam Ranh bay beautiful.
These favorable natural conditions have made this bay an attractive place with typical tourist activities such as relaxing, boating, snorkeling, watching corals, and climbing, etc.
Van Phong bay
Located about 80km from Nha Trang, Van Phong bay is the largest one of Khanh Hoa province in Van Ninh district. The bay is extremely charming by white sand stretching endlessly, deep, vivid blue sea waters, and the colorful marine life under the ocean.
Van Phong gathers many beautiful wild beaches like Bai Me, Bai Tay, Son Dung, Bai Bua, Bai Lach along with surrounding islands like Hon Ong, Hon Do, Hon Co, Hon Nuoc, Dam Mon, and Hon Gom.
Nha Phu bay
Nha Phu Bay
As a convergence of many terrains such as islands, streams, seas, lakes, mountains, and bays, Nha Phu is one of the two largest lagoons and the second marine reserve of Khanh Hoa province.
The nature of Nha Phu bay is interestingly transformed with famous tourist islands including Hon Thi, Hon Lao, Hon Sam, Hon Da Bac, and Hoa Lan stream, etc. Coming to Nha Phu, visitors will be able to fully explore the shimmering landscape with pure white sand stretching immensely, forests, and majestic mountains.
If you have a chance to travel to Vietnam, don't forget to enjoy the beautiful beaches and bays in Khanh Hoa province. For further information about other attractive beaches on Southeast Asia group tours, feel free to contact us or visit our website. Please like and share the article with others if you find it useful for you. Thank you.