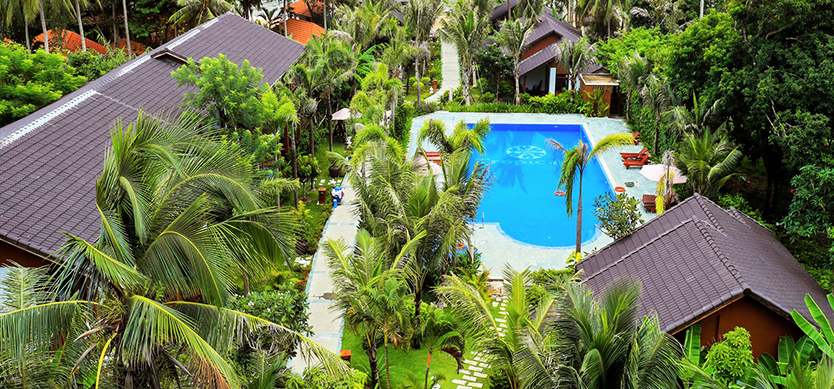 The Tropicana Resort welcomes you to its peaceful and exquisite resort on Long Beach Phu Quoc Island with the cozy and comfortable staying environment where to stay in Phu Quoc island.
General information
Address: Duong Dong Town, Phu Quoc Dist, Kiengiang, Vietnam
Tel: 84-77 3847127
Fax: 84-77 3847128
Description
The Tropicana Resort covering an area of 20,000 square meters with a beautiful private beach allows the clients the total privacy and shelters the guests from all noise & pollution of modern life. The resort has 28 bungalows and 6 rooms gracefully decorated in the traditional Vietnamese style with the high-grade wood and luxurious rattan furnishings, all set amidst coconut trees on a white sandy beach.
Tropicana Resort
Rooms
The resort set in a coconut palm garden includes 6 fan rooms, 6 bungalows with garden view, 7 bungalows with garden sea view, 9 beach front sea view rooms, & 2 family rooms.
Garden view, Sea view, and beachfront Bungalows equipped with AC, mini bar, and private bathroom.
Family bungalows have 2 doubled beds for family stay.
Facilities
Amenities and Services
The comfort of our guests is of utmost importance to the owners and staff of the Tropicana Resort Phu Quoc
Private beach
Hammocks and rattan beach chairs
Bungalows with verandas, rocking chairs, and hammocks
Airconditioning in rooms
Traditional Vietnamese accommodations
Romantic ocean side setting
Internet access available
Book and magazine library in a variety of languages
Surfboards, rafts and kayaks motorbikes, bicycle, and cars available to rent
Fishing boats
River touring boats
Scuba diving
Family owned business
Laundry service available
Enjoy the beach at Tropicana Phu Quoc
Dining
Dine in Comfort and Style featuring fresh crab, squid, fish, tuna, prawns and other meats, and vegetables in a variety of delicious styles and sauces
The Outdoor Bar & Restaurant
Vietnamese and European Cuisine in an elegant restaurant
Refreshing cocktails, beer, wine, soft drinks and juices
Fresh crab, squid, fish, tuna, prawns and other meats in a variety of styles
Fresh vegetables and fruits right from the tree
Delicious desserts, such as cooked bananas, ice creams, crepes and more
Wake up to a scrumptious breakfast cooked especially for you
The beachfront room at Tropicana
Highly recommended by several travelers who had stayed here, the Tropicana Resort of Phu Quoc island will surely make your holidays complete and unforgettable. If you need more information, feel free to contact us or visit our website. Thank you.