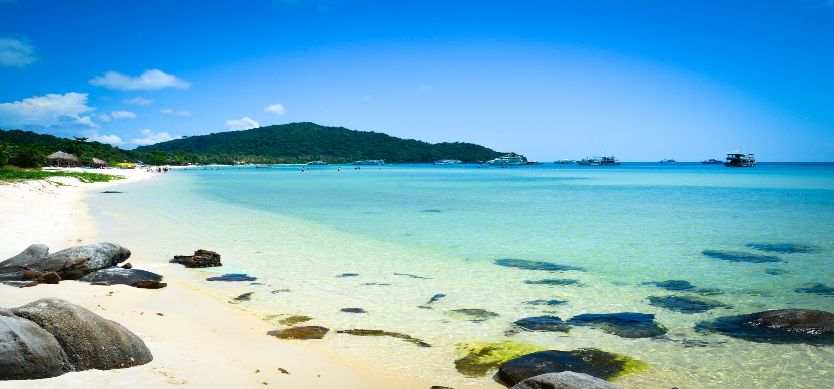 Shawn Martelock from "No Fixed Address" says "It (Phu Quoc Island) was very relaxing. After all this beach time I felt revived and ready to continue my travels with renewed vigor. You may not believe it, but even travelers need vacations."
After hard working days, he wanted to spend his day-offs to travel and relax, somewhere is peaceful and pristine. Phu Quoc island is his choice. He never has regretted about this decision.
Located in the Gulf of Thailand, belonged to Kien Giang province, Phu Quoc island is a beautiful and largest tourist island in Vietnam.
An ideal paradise for relaxing with clear blue sea and wild nature
He has seen many pictures of this beautiful island, but he still can't help being overwhelmed by its immense and unspoiled beauty, especially the long beach with white sand, blue sky, and golden sunshine. Fortunately, he visited Phu Quoc in the nice weather. He saved a few photos of his favorite place. Among the beaches such as Long Beach, Dai beach, and Khem beach, etc, He liked Bai Sao beach most, with silky white sand, clear blue water, and swimming fish.
However, the biggest surprise came to him from deserted islands, when he rented boats with his friends to explore around the small and big islets such as Mong Tay islet, Doi Moi islet, Ban islet, Thay Boi islet. His feeling at that time was unexpected and extremely happy. He felt the lovely, pristine and pure beauty of Vietnam. Every afternoon, walking along the beach and watching the breathtaking sunset on the horizon were the most peaceful moment in his holiday.
The spectacular sunset in Khem beach
Only here for 3 days, but Phu Quoc left him good and strong impressions. He hopes that over time, this wild beauty will never be lost. "Even travelers need vacations in the desolate and tranquil place as Phu Quoc island." Do you agree with him?