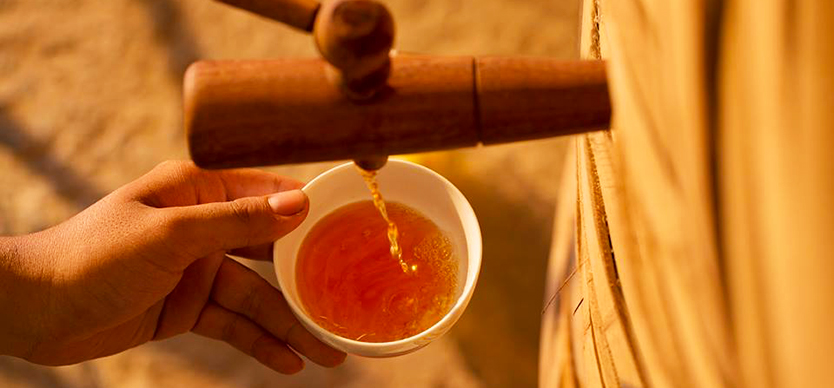 Besides the beautiful natural scenery, Phu Quoc also owns a variety of cultural characteristics to discover, of which the fish sauce of the island is very famous.
Phu Quoc fish sauce in Vietnamese cuisine
A fish sauce factory on Phu Quoc
Vietnamese food is nothing without the imprint of fish sauce (nuoc mam). The best Vietnamese fish sauce is delicately flavored and full of umami goodness. Believe it or not, good fish sauce can be enjoyed straight.
You can make fish sauce from various kinds of aquatic animals (shrimp, mackerel, or squid, for example). However, the best Vietnamese fish sauce comes from the island of Phu Quoc, where the waters are full of a particular kind of anchovy called "ca com". I was there in 2007 and visited a number of fish sauce factories.
At first, I didn't think that Phu Quoc fish sauce could be great. But I was wrong. I visited the source, spoke to the artisanal producers, and then tasted it. Yowza, it was good. It's hard to get "nuoc mam" from Phu Quoc abroad, though the Viet Huong (3 Crabs) brand combines Phu Quoc fish sauce with Thai fish sauce. Viet Huong has a whole line of fish sauce that you should check out.
Phu Quoc fish sauce is famous for its high protein content with a gently sweet, charming, and aromatic taste of "ca com" mixed with peppers, which only Phu Quoc has. The longer the fish sauce here is brewed, the better it tastes.
Phu Quoc fish sauce is made from "ca com"
The pure fish sauce is clear and dark brown, and it is condensed. In cold weather, before the fishermen or divers go to the sea in the early morning, they usually drink a cup of the pure fish sauce to keep warm until the afternoon. If drinking too much, people can be easily drunk. This specialty is also used by the factory owners for serving their special guests.
Phu Quoc fish sauce factories
Currently, Phu Quoc has about 100 fish sauce production factories, which create an estimated quantity of over 10 million liters/year. Duong Dong and An Thoi are the two largest fish sauce producers in the island. There are families doing the business of fish sauce from generation to generation, keeping the reputation from time to time. Here, the fish sauce production facilities are not called a kiln or a stall but are called a barrel house.
A completely unique experience when tourists set foot on the pearl island of Phu Quoc is visiting one of the fish sauce factories in Duong Dong and An Thoi towns. Phu Quoc is famous for producing the very high-quality fish sauce that is exported worldwide and is a major contributor to the island economy.
Phu Quoc is indispensable in Vietnamese cuisine
In Phu Quoc, there are four barrel houses of fish sauce licensed for tourists to visit and buy fish sauce directly, including Phu Quoc Khai Hoan, Phung Hung, Chinsu Nam Ngu Phu Quoc, and Thinh Phat. All the products of these factories are traditionally created and only the high-quality fish sauce is selected. Seeing firsthand the barrel of fish sauce production areas like this, visitors can imagine how complicated and interesting the process of producing the delicious sauce fish is.
As one of the most famous fish sauce brands in Vietnam, Phu Quoc fish sauce has confirmed its brand in the heart of not only the Vietnamese people but also the foreigners. Traveling to Phu Quoc, don't miss out the chance to taste and buy Phu Quoc fish sauce as gifts for your beloved people. If you like the place, like and share this article with others. Thank you.